The words selvedge denim relate to self-edge or self-finished fabric edges. Selvedge denim jeans use the actual self-edge in the jean construction – specifically along the outseam.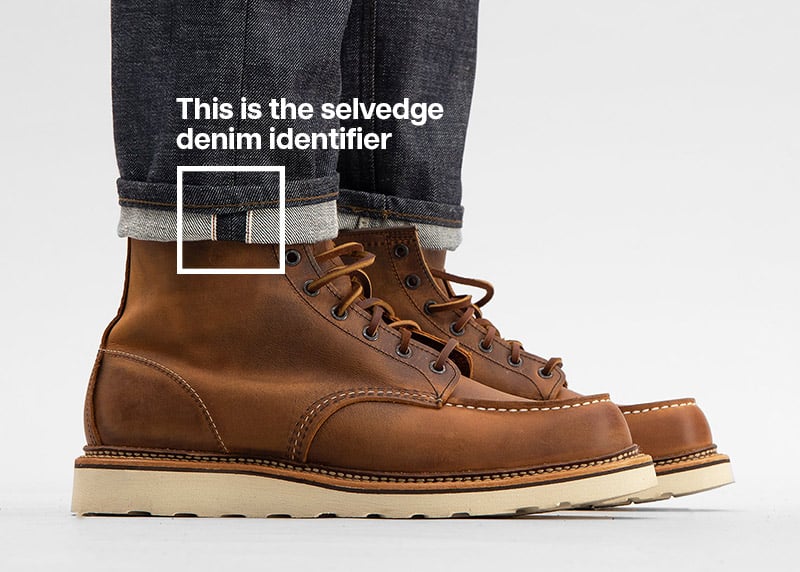 What makes selvedge denim special?
Selvedge denim is an old-fashioned way of weaving denim, generally on older machines. People who care about selvedge denim appreciate its historical authenticity.
Is selvedge denim better quality?
Selvedge is a way of weaving denim, and it does not necessarily make it better quality. For example, a denim mill could use the same yarns, dyes, quality control, and design but weave the denim on different looms: self-edge and conventional looms— and the quality could be similar.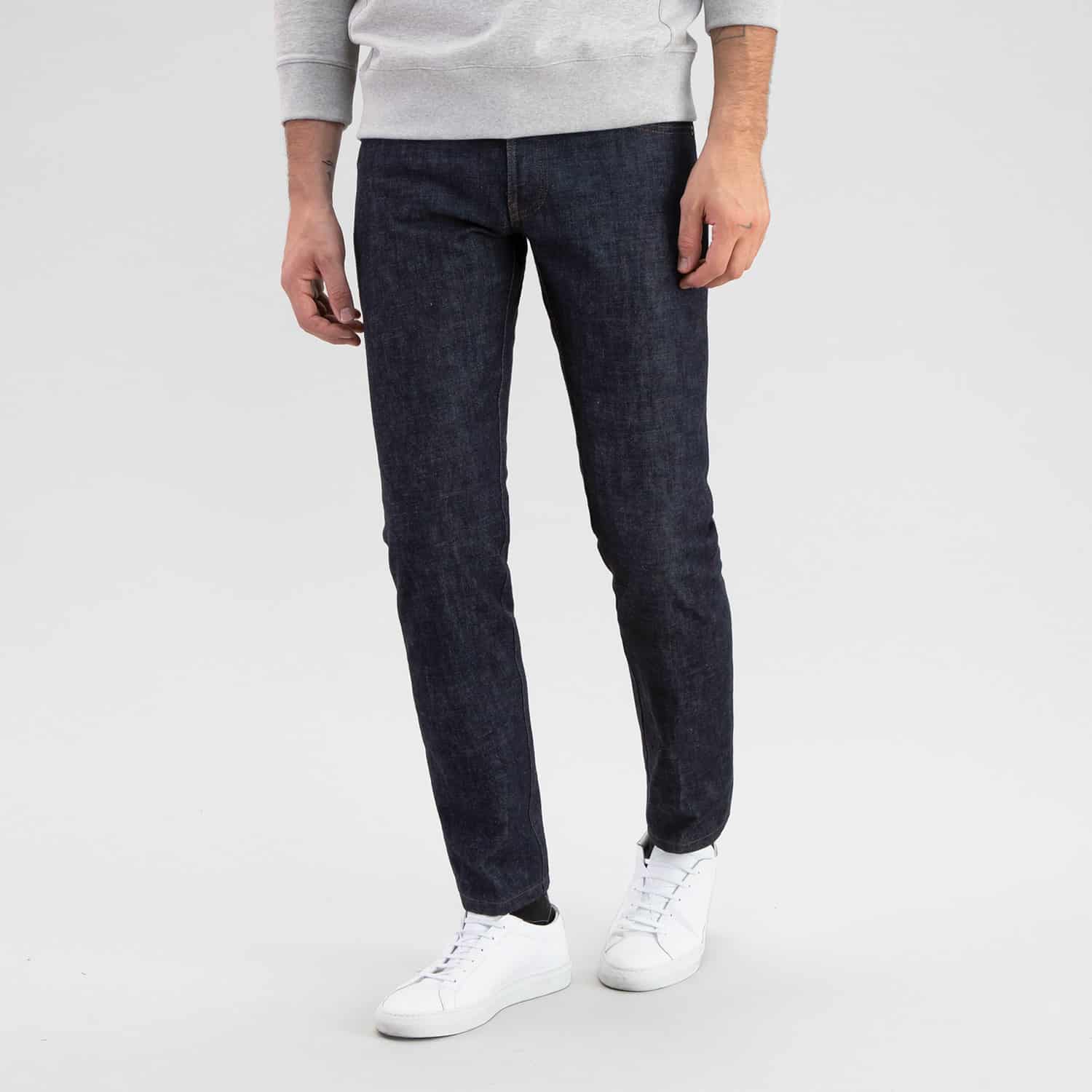 Detail-minded men who care about fit use us
We specialize in manufacturing a wide range of fit options designed to help men solve fit problems and improve the fit of their jeans.
See our products
Why is selvedge denim considered better?
Two things have given selvedge denim a reputation as being better than non-selvedge: quality (yarn quality, dyeing techniques, quality control, and design) and one distinct style advantage.
In terms of quality, the denim mills that have chosen to produce selvedge understand and value the history of denim. They don't make selvedge denim because it's easier or sells more; they make it because they have a passion for denim.
Because of their passion, they're more likely to decide to make a superior and heritage-inspired product. Yarn quality, dyeing techniques, quality control, and design; each become an artisan endeavor. And because these mills take such care, they build reputations for making high-quality or better products.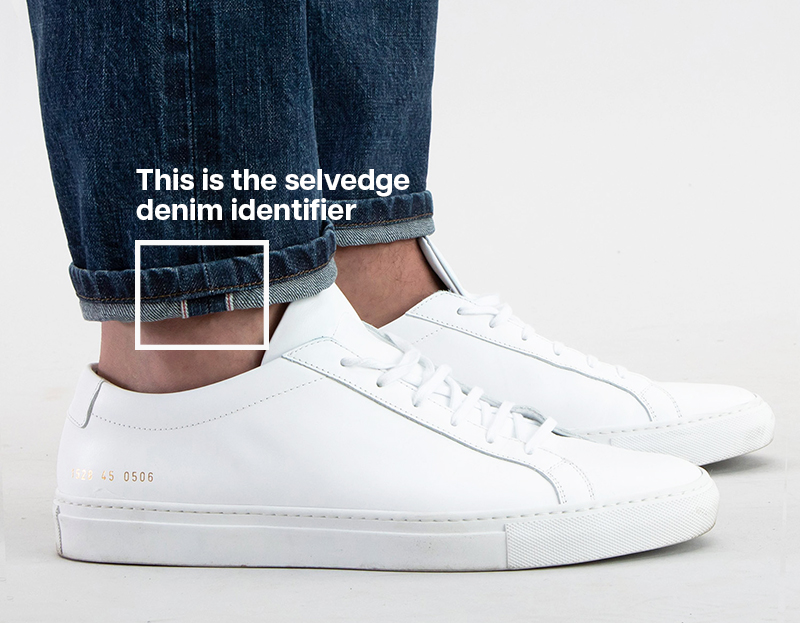 In terms of style, selvedge denim jeans have one distinct advantage. Rolled or cuffed selvedge jeans show the selvedge ID and it looks interesting. For people who roll or cuff their jeans, selvedge jeans are better.
Our experience with which is better: selvedge or non-selvedge
A few years ago, we developed a non-selvedge jean using the same ingredients, the same weight, and from the same mill as our best-selling jean, Pro Original, which is selvedge.
We wanted to see if a less expensive version of our best-selling and longest-running jean would be popular with new customers. We called the new, non-selvedge jean, Harvester.
After two years, we discontinued Harvester. It didn't fit as well, and it didn't age as well as Pro Original. It was missing the magic of Pro Original, and the difference was the weaving.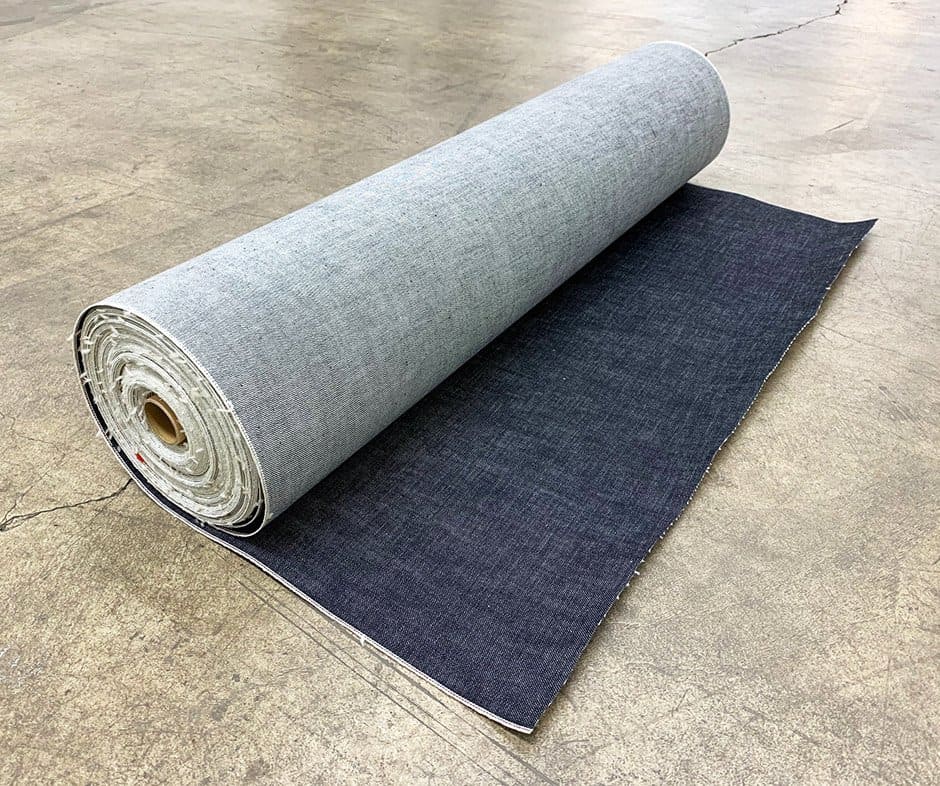 Why is selvedge denim more expensive?
Selvedge denim uses smaller and, in many cases, old looms that run slow. Non-selvedge denim uses bigger and modern looms, that run fast. It takes much longer to weave self-edge denim, making it more expensive.
How do I know if my jeans are selvedge?
Turn up the cuff to look at the seams on the inside of the jean. Look at the seam that runs up the outside of the leg. If the edges look finished (the yarns of the self-edge are a different color than the fabric), it's selvedge.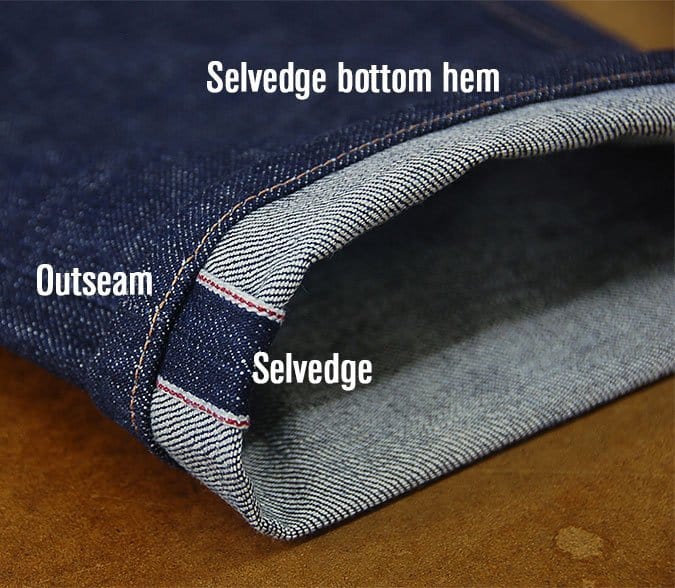 If the edges look like cut fabric and like a sewing machine covered the edges with thread to keep the denim from unraveling, then it's not selvedge. See image below.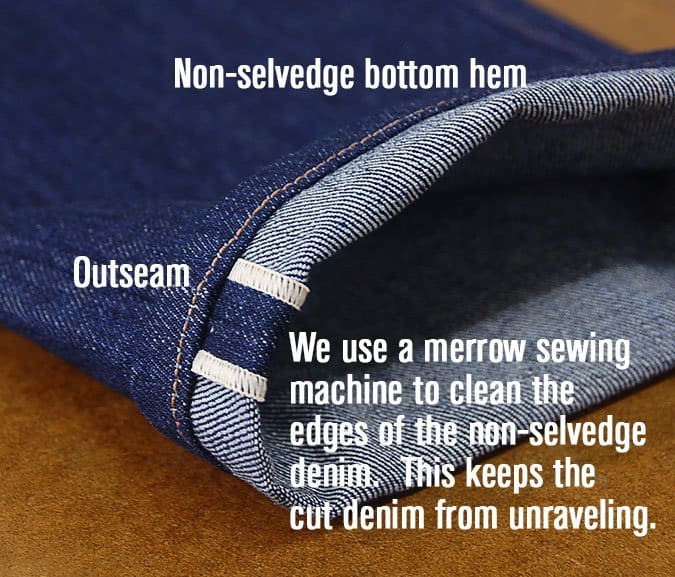 Is selvedge and raw the same thing?
No, they are two different things. Selvedge relates to how denim is woven and raw relates to how denim is washed, or rather, not washed.
All denim, selvedge or non-selvedge, is raw in the beginning. Raw denim means unwashed denim, straight off the roll. After washing, the denim is not raw anymore.
You can buy selvedge jeans that are raw or washed. Learn more about raw jeans here.
Selvedge or selvage
According to Wikipedia, the words selvage and selvedge are grammatically correct.
Selvedge is British English. Selvage is US English. We use selvedge because of the direct use of the root word "edge."
A brief history of selvedge denim jeans
Selvedge denim uses old-fashioned weaving techniques. Most authentically woven on old looms. Selvedge looms were popular in denim weaving until the mid-to-late 1900s.
As demand for denim grew worldwide, US mills began modernizing their machinery to speed production, as a result, self-edge looms became obsolete. The older selvedge looms were slower and the production was less consistent.
Today self-edge weaving has become desirable again because of the heritage of the weaving technique and the commitment to quality from the mills that choose to produce it.
Constructing a selvedge jean
Selvedge rolls are narrow. The narrow widths reduce waste when making selvedge jeans.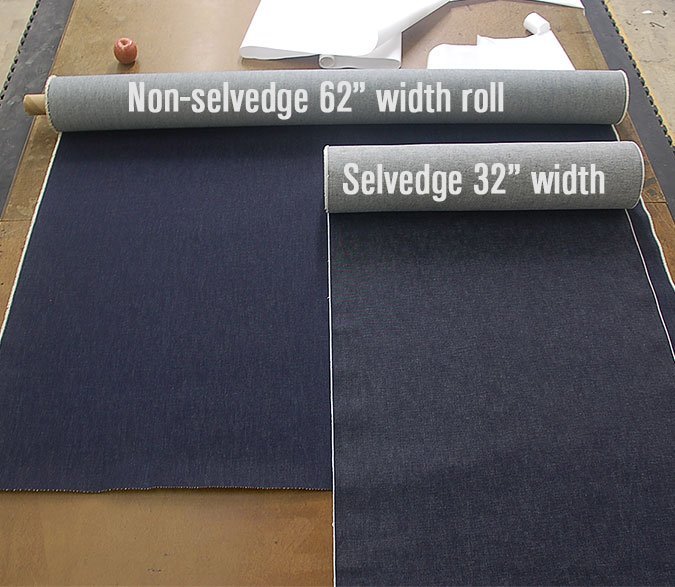 In a garment factory, a garment cutter cuts the jeans using the self-edge as the outseam. Self-edges do not unravel, making them suitable as finished seams.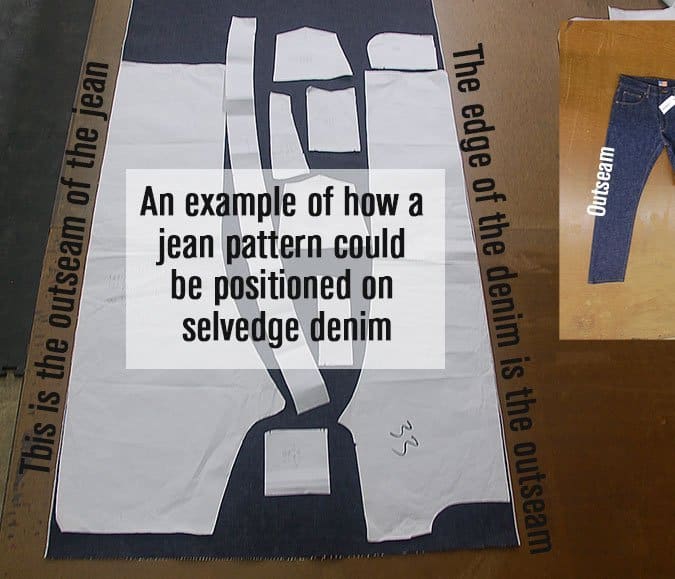 The jean pattern is placed onto denim before cutting, notice the self-edge used in the jean construction—specifically the outseams.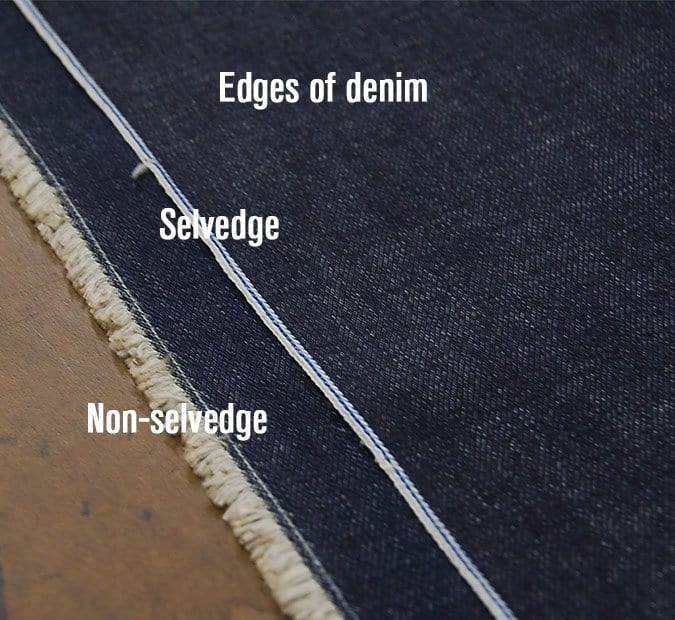 In the above photo, the selvedge has a finished white edge with a blue identifier. But the non-selvedge has an unfinished edge.
We hope you found this article helpful. If you have any questions or thoughts about this article, please contact us at support@toddshelton.com.
---

Todd Shelton is men's clothing brand based in New Jersey. Founded by Tennessee native Todd Shelton, the brand's collections offer industry-leading fits that are manufactured in the company's NJ factory and sold exclusively online.