How to Wash Raw Denim Jeans
Raw denim is a sub-community in the denim world. One big thing separates the raw denim community…how they wash jeans. In this article, we documented a raw denim jean being worn for one-year straight, then washed.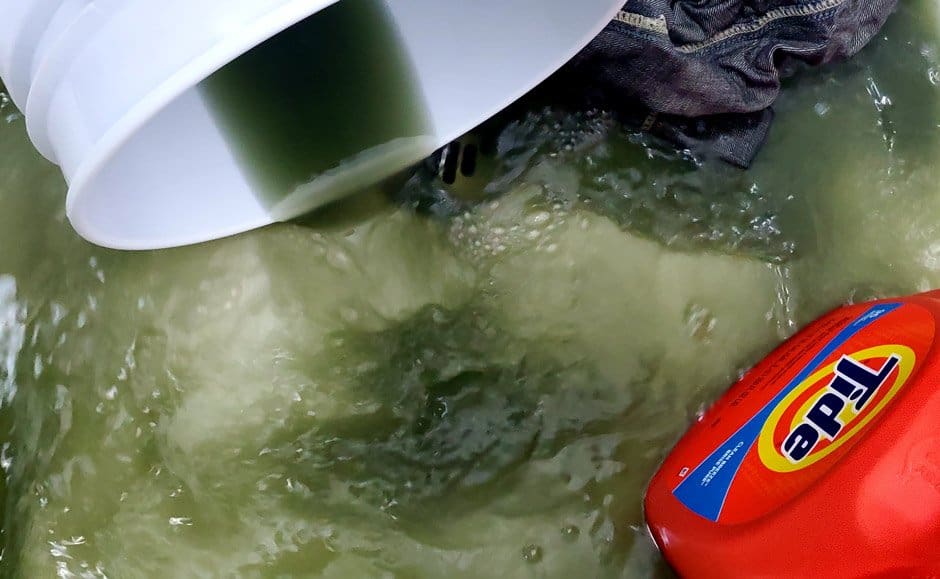 The purpose of raw denim jeans
Raw denim jeans are unwashed jeans. They're stiff. Guys who buy raw jeans want to break-in their jeans from scratch, in order to achieve optimal fading. You can achieve fading with washed jeans, but raw gives you an unadulterated blank slate to work with.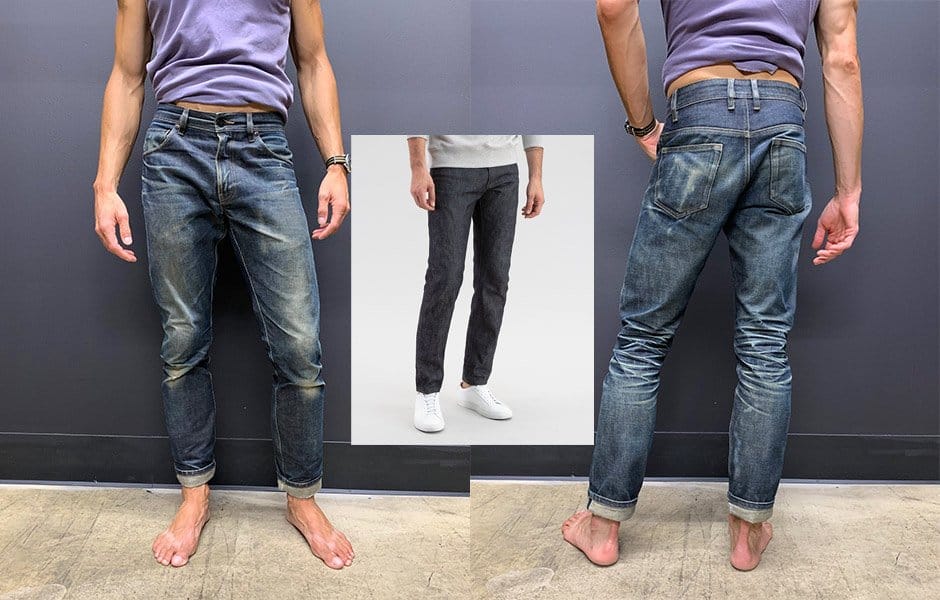 If fading is the goal, raw is the best place to start.
Change your jean washing habits for raw
With raw, you'll want to go as long as possible without washing, think once or twice a year. If you need to wash jeans frequently, there's no reason to buy raw (buy a dark wash jean instead).
To get good fading, your raw jeans will need to get dirty. Why!?
Raw denim is stiff from a starch-like substance the denim mill applies. This stiffness helps create sharp creases in the raw jean when you sit or move. The creases are where fades appear. When you wash the jean, the starch-like substance washes out, the denim softens, and the creases become less sharp.
On those sharp creases, fading happens from abrasion during daily wear. The top blue yarns get worn down, allowing the bottom white yarns to show through. Each time a jean is washed, it loses a little color, and the contrast between dark (non-faded areas) and white (faded areas) lessens.
To get good fading, you can't allow the jean to lose color through washing.
Raw denim washing myths
There are lots of myths about washing raw jeans…put dirty raw jeans in the freezer to kill bacteria (the bacteria that smells bad), but it's been debunked. There's…rub sand on your jeans, then swim while wearing them in the ocean. These myths add to the lore of raw denim, and they're fun, but…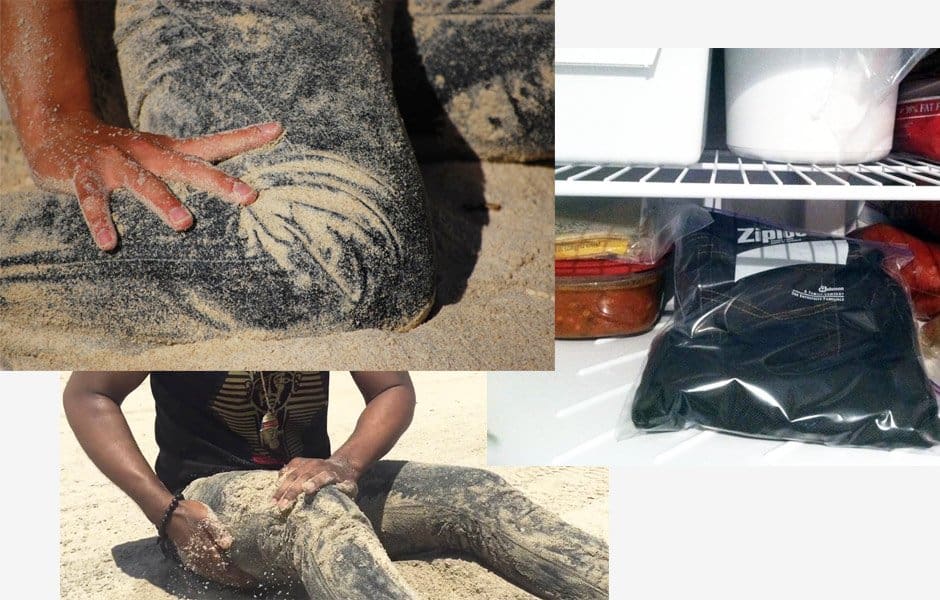 When it's time to wash, you'll know it (if being frequently worn, it's probably around the 6 month mark). And when it's time to wash, we recommend actually washing your jeans.
We recommend machine washing raw denim jeans (by themselves), with detergent, and hanging to dry – it's the easy method. But, some guys hand wash so the jean suffers less mechanical abrasion and maybe less color loss – that's a good idea too (more on that below).
We documented washing raw denim
We asked Paul to wear Pro Original Raw for one year to document the break-in and wash process. He agreed, and took one for the team – as they say.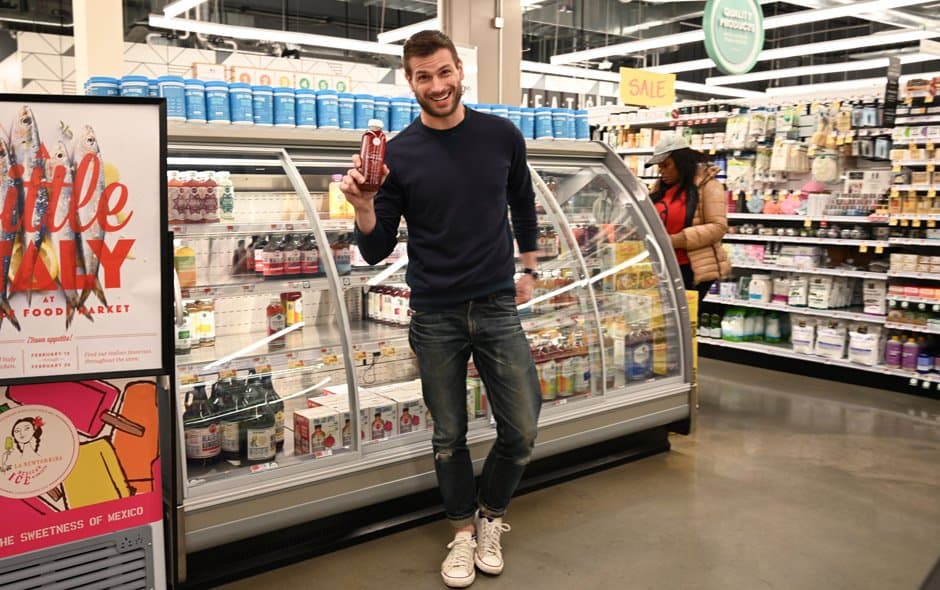 The below images are of a jean being washed for the first time after one year of daily wear.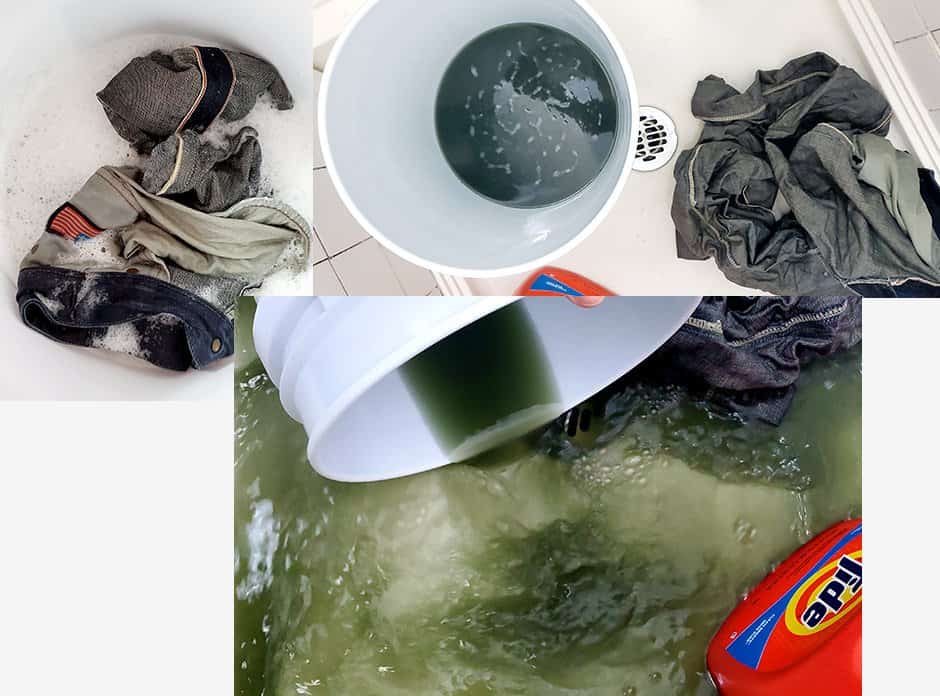 The first process (above) was a 30 minute soak with detergent, inside-out, then some hand agitation.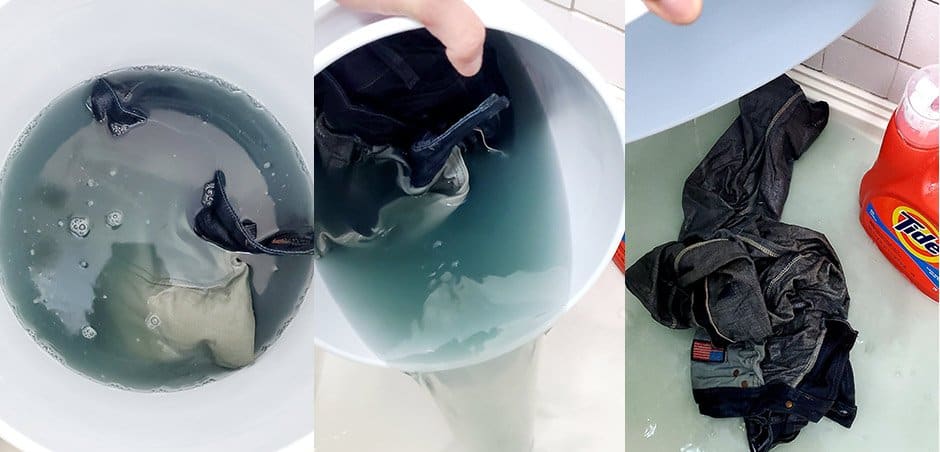 The second process was a 30 minute soak, no detergent.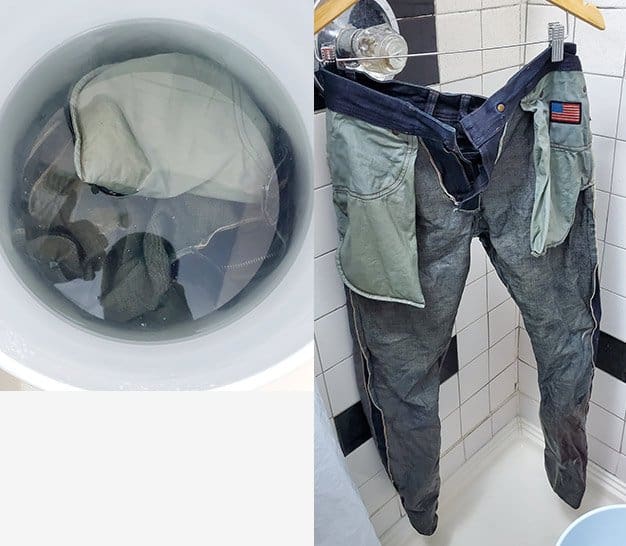 Final 30 minute soak, rinsed by shower head, hung to dry.
Paul comments on the year-long process
Paul wore the jean from September 2018 to September 2019. He wore it everyday, except for several days in the Summer when the temperature got above 90.
Was wearing a jean everyday for one year worth it?
ABSOLUTELY. So worth it I'm doing it again.
What do you do for a living that you can wear the same jean for a year?
You have to be careful what you ask for…I wanted to be a supermodel. But that didn't quite work out like I thought. I ended up being the super in my building and a TS model…a super-model. (Todd's notes on Paul: don't let Paul fool you with his humble humor, he's an entrepreneur with plenty going on).
What was the worst thing about wearing the same jean for a full year?
The worst part of this process is that as soon as you get them where you want them, it's time to wash them, make some repairs, and consider a replacement in the near future. #sad
We wanted to go a full year before washing. But was there a point you felt like the jean needed to be washed before that?
The plan was a year, I wasn't going to bail halfway in on TS. Could they have used a wash or three. Certainly, but I'm not going 50% with anything, I'm all in!
Did the jean ever get smelly? If so, at what point did it get smelly?
YES! The jean developed a smell starting in the Spring/Summer months, roughly 7 months in. I did what I could to mitigate it, the freezer thing overnight, that worked for about 10 minutes till the jean came back to room temperature. They had a similar smell to old money.
What do you think turned that water green from the first wash?
Some of it may be from the blue tide detergent and a little of the raw denim dye, plus dirt.
Would you do it again?
I'm looking forward to doing it again soon! I plan on making my Angry Denim that's in production now the most jovial Angry Denim you'll ever smell! When I was about 10 years old my grandfather used to say, "Use it up, wear it out, make it do, or do without!"
Five months after the one year experiment ended, Paul is still wearing his Pro Original Raw jeans daily. He's made a few repairs – and they're cleaner.
Name: Paul M.
Customer since: 2010
Hometown: Adirondacks
Currently living in: Hoboken, NJ
Profession: Entreprenuer
Favorite food: Churrascaria
Last best vacation: Maine (to visit the Lost Kitchen)
Favorite TS product: Pro Original Raw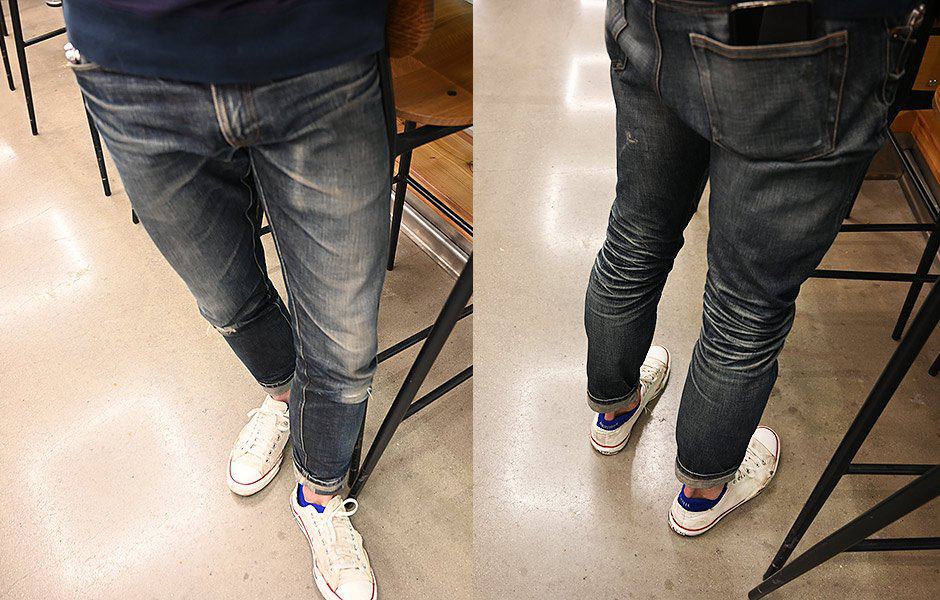 Beautiful work, thanks Paul!
---
If you see a guy out and about, with jeans that look as faded as the jeans above, and you suspect the fading is real, congratulate him – let him know you know what he went through to get those fades. He'll appreciate it.
If you have any questions about raw denim, reach out to us, we're here to help.