7 Brands Making Custom Jeans
Custom jeans can solve fit problems and fit better than in-stock jeans. But each brand offering custom jeans has a different process that yields different results. Research can help you decide which custom jeans brand is best for you.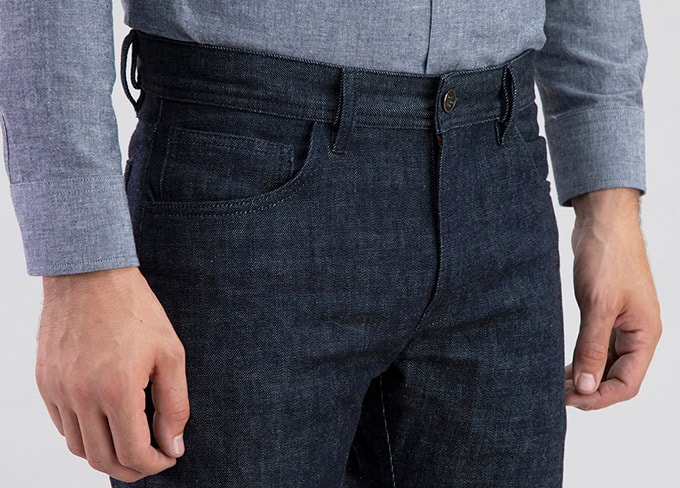 What to look for
If you're looking for custom jeans to solve fit problems, look for a brand that offers you the greatest flexibility to control specific areas of your fit independently. Waist to hip ratios, rise increases or decreases, thigh fits, knee and ankle widths, and lengths can each be important to helping you solve an isolated fit problem.
If you're looking for custom jeans to achieve a certain style, look for a brand that offers you choices with denim color, thread color, and hardware.
---
About this list
This list intends to match consumers with brands that make custom jeans for men. We also discuss the fit options men should look for when shopping for custom jeans. This article is managed by Todd Shelton, a jean manufacturer in New Jersey, specializing in fit solutions for men jeans. No commissions are made from links on this list.
---
Custom jeans vs made-to-order
All brands included on this list are made-to-order, meaning they make the jean when they get the order. And all brands included on this list claim to make custom jeans.
The difference between custom jeans and made-to-order jeans is the flexibility to control different areas of your fit in relatively small increments. Some of the brands on this list offer a lot of fit options, which would qualify them as custom. But others offer fits similar to in-stock brands, like Levi's or Bonobo's, both of which offer a lots of in-stock fit options.
Whether a brand makes custom jeans or made-to-order jeans is up to you to decide.
Custom jeans vs bespoke jeans
None of the brands included on this list make bespoke jeans. Bespoke jeans require a unique pattern be made for the customer, with multiple in-person fittings. Blackhorse Lane Atelier in England offers bespoke jeans, and we did not find any bespoke jean makers in the USA.
Custom fit vs custom details
Customizing can mean different things. For some, it will mean custom fit; for others, it will mean the ability to choose denim, thread color, and hardware. All brands included on this list let you control your fit, but only some brands let you control details.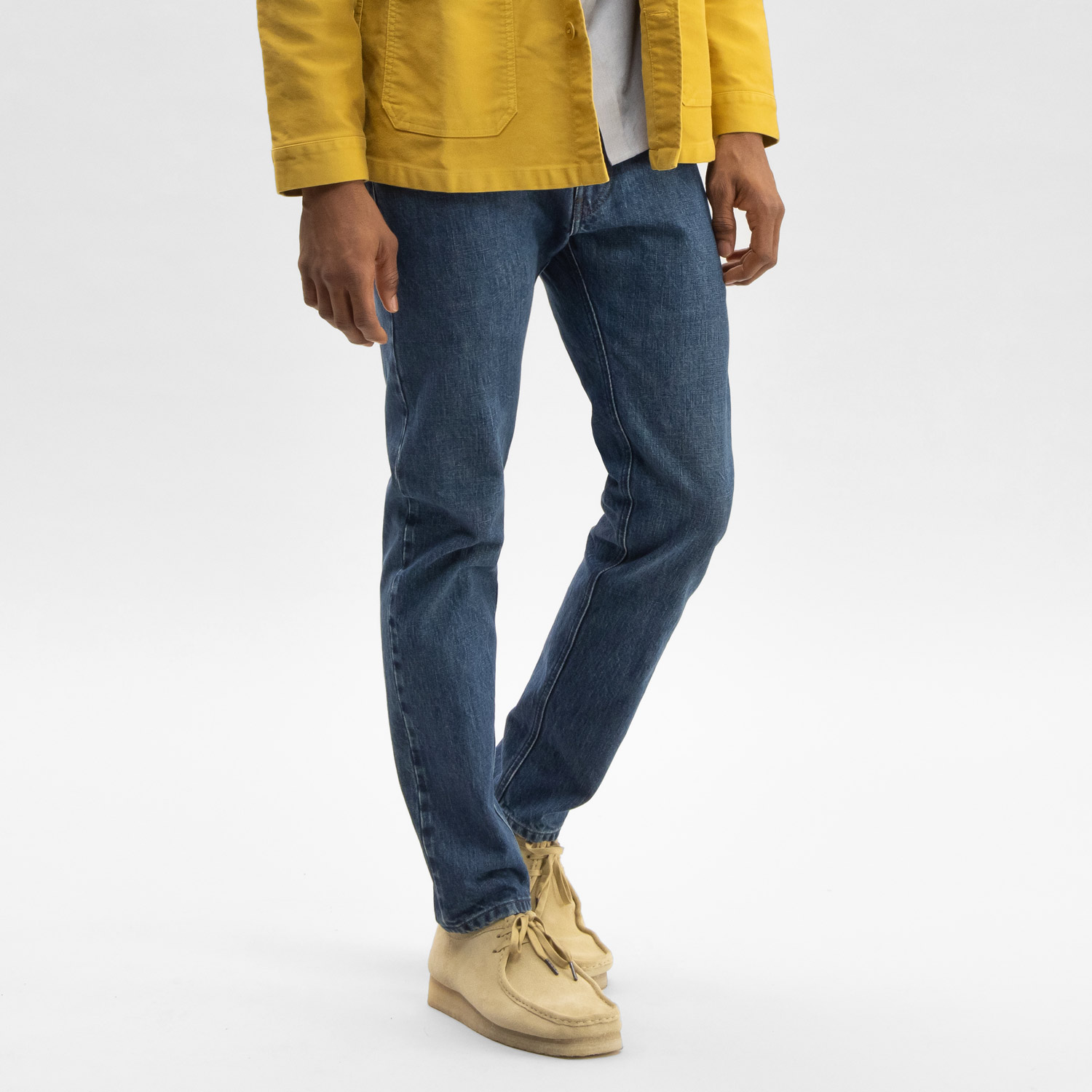 Detail-minded men who care about fit use us
We specialize in manufacturing a wide range of fit options designed to help men solve fit problems and improve the fit of their jeans.
See our jeans
7 brands making custom jeans for men
These 7 brands are the only US-based brands we know that offer custom jeans. Other than the Todd Shelton brand, we do not have experience with the products from the brands on this list; the brands are included because they promote custom jeans. If we missed a brand, email us at support@toddshelton.com.
Custom jeans using a Home Try-On program
East Rutherford, NJ
Over $200
At Todd Shelton, we make jeans from scratch in our East Rutherford, NJ factory to each customer's fit requirements. Customers can adjust specific fit points independently, including seat and thigh fit, rise, knee and ankle widths, and lengths.
We use a free Home Try-On program to find the fit options you need before you order. With Home Try-On, you receive three jeans and a step-by-step worksheet to help you select your fit options for your order.
---
2. Blue Delta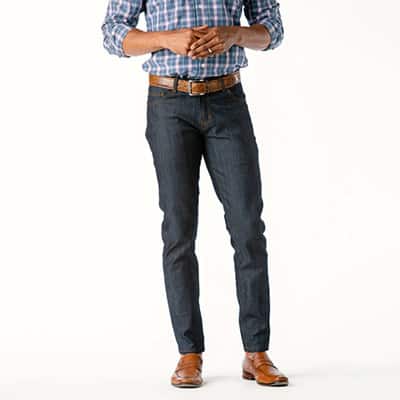 Custom jeans using a fit quiz
Tupelo, MS
Over $400
Blue Delta Jeans is a custom jean maker based in the USA. Every jean is made using your unique measurements and sewn by hand in Tupelo, Mississippi, and customers can customize the thread color of their jeans.
Blue Delta uses a fit quiz and artificial intelligence to predict your body measurements, allowing their team to create your personal pattern.
---
3. Sene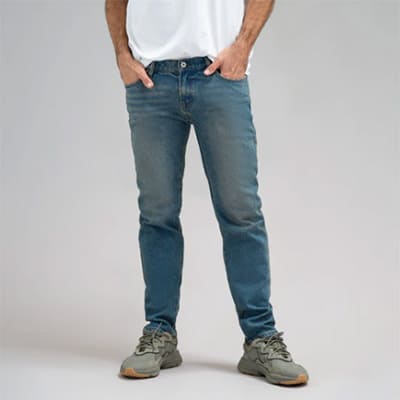 Custom jeans using a fit quiz
Los Angeles, CA
Over $100
Sene's mission is to empower people of all shapes, colors, and sizes to feel their best through sizeless clothing.
Sene uses a fit quiz and proprietary SmartFit technology to generate a unique fit tailored to your preferences and body. Based on hundreds of thousands of body measurements, their AI platform makes sizeless clothing affordable and fast.
---
4. Unspun
Custom fit jeans using an iPhone 3D body scan
San Francisco, CA
Over $200
Industry veterans started Unspun after they could not find a fashion company to lead them into a regenerative, sustainable, responsible, intentional future. Unspun uses no sizes; every pair of jeans is custom-fit to your unique body. Using an app to take a 3D body scan, they design your jeans on your digital model.
---
5. Detroit Denim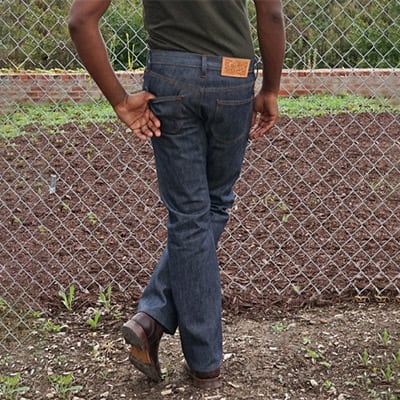 Customize the details of your jeans
Detroit, MI
Over $200
Detroit Denim is on a mission to make the world's most sustainable jeans here in Detroit. They promise never to make a pair of jeans until someone asks for them, which means zero waste from overproduction. They strive to help their customers have a better relationship with their clothes while proving to the fashion industry that a better model is possible.
---
6. Williamsburg Garment Company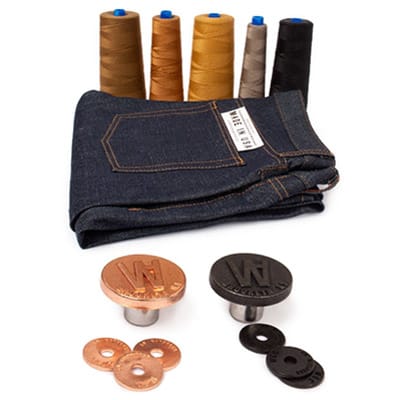 Customize the details of your jeans
Brooklyn, NY
Over $400
Williamsburg Garment Company is a service-based business regarded as one of the leading denim alteration specialists in the USA. They also make custom jeans. You can visit their Greenpoint, Brooklyn studio or send them a jean to match. They will build you a pattern that you can adjust with each order.
---
7. Neems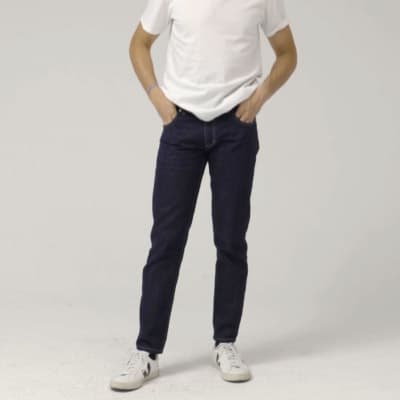 Custom jeans using mobile body scanner
Los Angeles, CA
Under $200
Neems is on a mission to inspire confidence through the power of perfectly fitted jeans because the company's founders could never find high-quality jeans that fit exactly how they wanted.
After you order, Neems sends you an email with instructions on creating your profile and accessing their Mobile Body Scanner. If you don't want to use the mobile body scanner, you can watch how-to-measure videos and send in measurements.
---
5 Important fit points to consider for custom fit jeans
Consider where you want to improve your jean fit and investigate if the brand you're considering has fit solutions specific to your needs.
Some brands have size charts and list measurements, and there you can see the breadth of the fit solutions a brand offers. For brands using body scans or algorithms, ask how they adjust your fit to your preferences, not just the results of your body scan.
Here are 5 fit points to consider when choosing a brand for custom jeans:
1. Seat and thigh fit
Are jeans always too tight around your seat and thigh? Or always too baggy? Investigate how a custom jean brand will adjust for the roominess you need around your seat and thighs.
2. Front and back rise
Rise is the measurement from the top of the waistband down to the crotch seam. A jean has a front and a back rise. Rise affects how high you can wear jeans on your waist and how much room you'll have in the crotch area. You can learn more about front and back rise here
Consider if you need more or less rise and investigate the rise options a custom jean brand offers.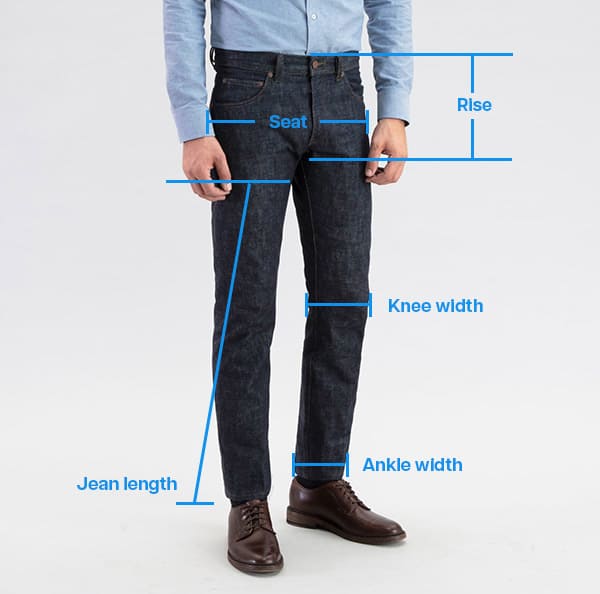 3. Knee width
Knee width on the upper end affects lower thigh fit, and knee width on the lower end affects the fit around your calf. If you have big knees or calves or are looking for a slim fit around the knee and calf, investigate the options a custom jean brand can offer.
4. Ankle width
Leg opening width is the measurement across the leg just above the hem, it's also called Ankle width. It's a critical measurement for many men looking for custom jeans. You can learn more about leg opening widths here
5. Inseam length
Pay close attention to the inseam length (overall length) to add the finishing touch. Spend time understanding which shoes you will wear most frequently with your jeans and what length is ideal. Make sure the custom jean brand you choose offers the measurement you need.
---
Setting the expectations for a custom jean
Will custom jeans solve your fit problems? It depends on several factors: does the custom jean brand you chose offer fit solutions to solve your particular fit issues, does the brand communicate effectively, are you responsive with your communication—and finally, it depends on your expectations.
We all have unique bodies, and our bodies present challenge in how our clothing fits. A custom jean may only be able to solve a fit problem partially, but the goal is to improve the fit. It's essential to enter a custom jean process with realistic expectations of what success will look like.
---
If you have ideas or questions about custom jeans, please feel free to contact us.

Todd Shelton is men's clothing brand based in New Jersey. Founded by Tennessee native Todd Shelton, the brand's collections offer industry-leading fits that are manufactured in the company's NJ factory and sold exclusively online.