Identify your Hero Outfit, Build a Wardrobe Around It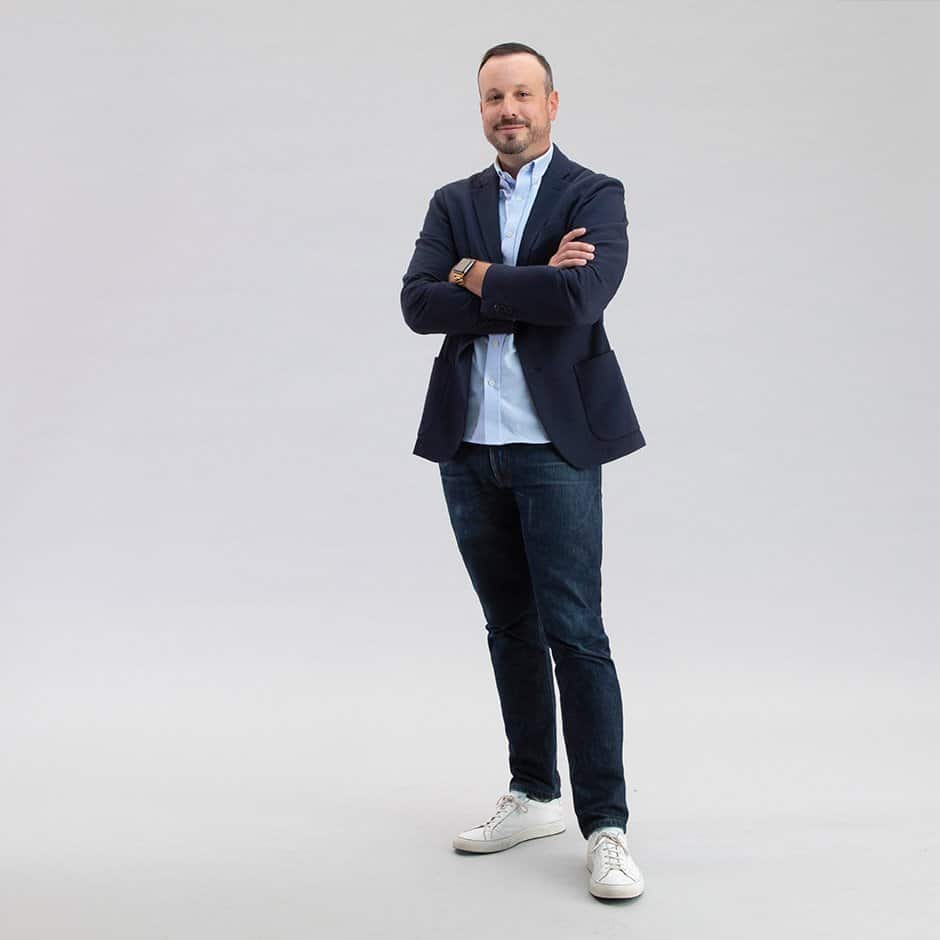 The Hero Outfit Plan
The secret to dressing well is having a plan. An overall vision for your look. A clothing plan guides what you buy and where you buy it. And it starts with a hero outfit.
Your favorite outfit – what we call a 'hero outfit' – can provide the necessary clues to begin building a clothing plan. Identify your best outfit and build a wardrobe around it. You'll spend less time deciding what to wear, less time shopping, and you'll have a cohesive style.
What is a Hero Outfit?
Your hero outfit is your best outfit. The one you feel most confident wearing. It's the outfit that's risen up above all others, and against staggering odds (you've acquired lots of garments over the years!). In other words, it's the outfit you reach for when going somewhere special. It's the outfit you pack first when going on a trip.
The Alpha in Your Wardrobe
Once you identify your outfit, you can start building a wardrobe of like-minded garments – and now you're on the path to dressing consistently. The hero sets parameters for what to wear – and maybe more importantly – what to buy.
All your garments should be a derivative of this outfit. Any garment that veers too far from the style, color or fabric of your hero is a risk and shouldn't be allowed in your wardrobe. Errant garments will only cause clutter and confusion.
How to Find Your Hero Outfit
If you know your hero already, you're ahead of the game. You only need to do 3 things: 1) clearly understand why you like the outfit 2) study the fit and what you like about it, and 3) set parameters so you don't deviate too far from it.
But what if you don't know your outfit?
The approach we recommend is to separate your closet into garments you wear, and garments you rarely wear. Study the two groups equally, find the common threads of what you like and dislike. Pay attention to colors, patterns, fabrics, and fits.
Once you understand what you like, try to identify one outfit you'd like to explore as your hero outfit. Begin to understand the colors, fabrics, and fits you gravitate towards. Consider which clothes help you feel your best.
When you find your outfit, you can begin to narrow your focus and build a consistent wardrobe. In addition, you'll stabilize your identity, have confidence when shopping, and match your wardrobe more easily.
Maintaining a Wardrobe
Once you've done the work to find your hero outfit and develop a plan around it – you must stay disciplined with your look. Knowing potential pitfalls can be helpful.
For instance, impulse shopping, discount shopping, and gifts can derail your clothing plan. Stay disciplined with the clothing you bring into your home. If a garment doesn't fit into your clothing plan, don't make the purchase.
You'll spend time and money buying clothing for the rest of your life, and you'll need to dress well for the rest of your life (both professionally and socially). Take the time to identify your hero outfit and begin building a consistent wardrobe – it's a small, up-front commitment that will pay off for a lifetime.
Kevin S.'s Hero Outfit
Todd Shelton customer Kevin S., identified his hero outfit two years ago. It consists of a beautifully broken-in pair of Pro Original Darks jeans, our Jim Dandy Vintage Blue Oxford shirt and his Common Projects Original Achilles sneakers.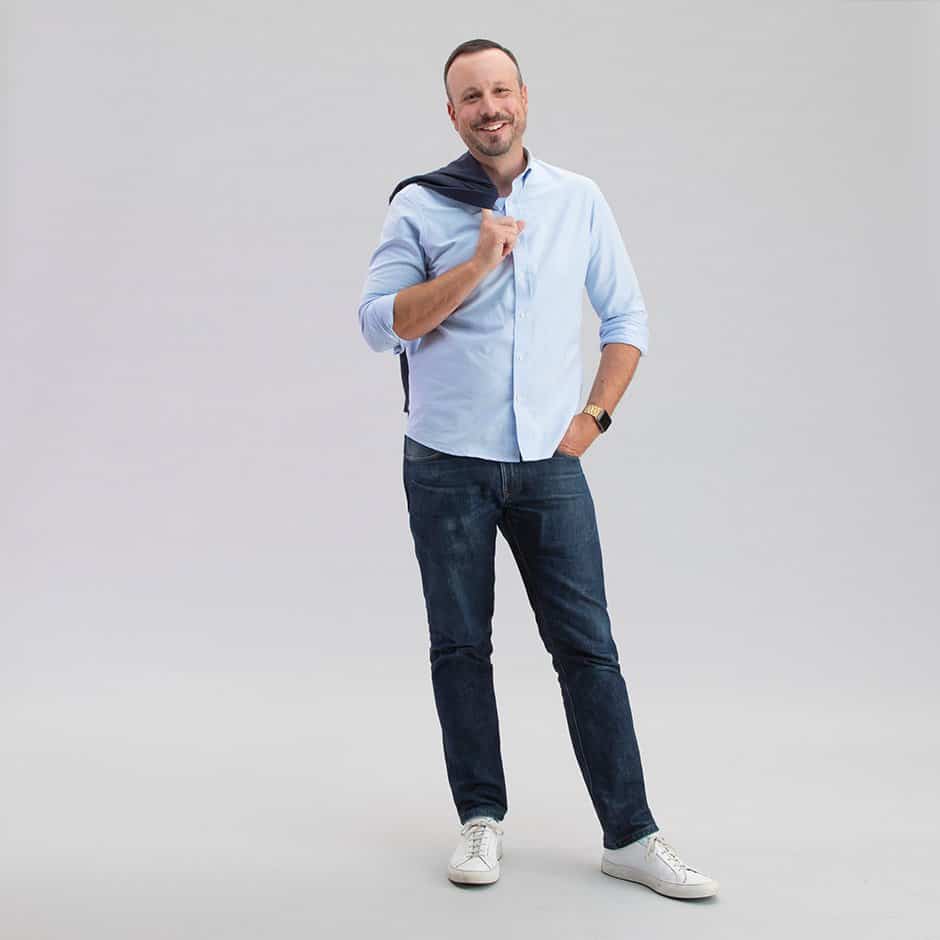 Kevin owns a large-scale printing business in Springfield, NJ and says his hero outfit carries him seamlessly between client meetings and the factory floor. We asked Kevin about his hero outfit:
Why is this your hero outfit?
It's laid back. I can work in it, and go out after and never feel out of place.
How long has this been your hero outfit?
Two years. Prior to Todd Shelton I liked the story of where my clothes came from…USA made, etc. When I started wearing Todd Shelton 90% of the time, I got more compliments and turned people's heads. I never expected so many flattering comments wearing jeans and a blue button down. But people get it when I explain the clothes were made to fit me just right. 
How do you feel when you wear your hero outfit?
It is comforting. I know I look good, I feel good and I don't have to think too much in the morning when I'm putting it on.
How long have you been with Todd Shelton?
I think we're going on 4 years.
Is there anything you'd like to share with guys reading this who are just learning about Todd Shelton?
People don't realize how important it is for clothes to fit well. Most guys wear clothes that are too big or misshapen. I think it makes them look like hacks. Especially in business.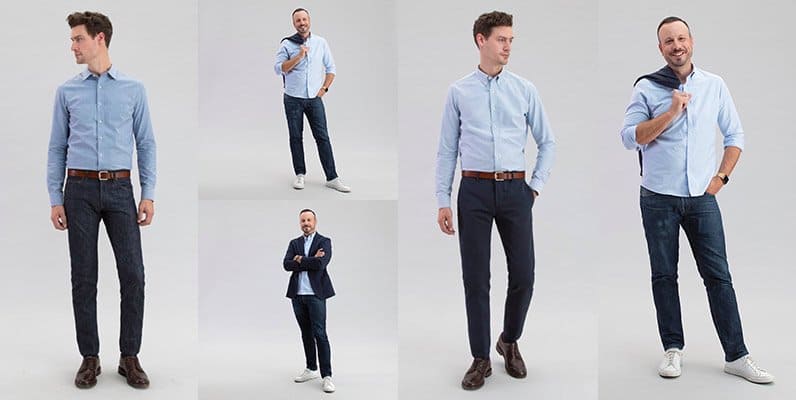 Send us a picture of your Hero Outfit and we may share it on our social pages: support@toddshelton.com
Or share your photo on Instagram with #toddsheltonherooutfit