American Khaki Collection Launch
American Khaki Launch 
We are excited to announce the launch of the brand's first in-house khaki collection, the American Khaki. This is a product category customers have been requesting for some time. We are  confident that after two years in development, we finally have a product worthy of the wait. The collection is made exclusively in our New Jersey headquarters. Shop Khakis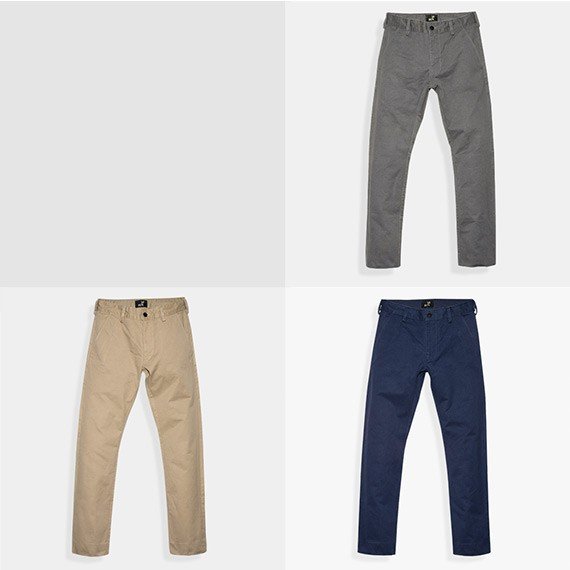 A Redesigned, Better Fitting Khaki
What sets The American khaki collection apart? Fit. We believe great fit elevates a man's style. So when it came to our khaki, the goal was to move away from the traditional boxy khaki and give customers an enhanced, modern fit.
So we spent two years testing fabrics and fits, always keeping the customer in mind. In the end, we created a completely redesigned, modern pant that fits more like a favorite jean rather than a traditional khaki.
As a result, the cut of The American khaki is based off the fits and patterns of our jean collection. We tweaked the patterns to give the pants the styling of a khaki, while maintaining most desirable fit features of our jeans. Then the khaki leg and seat were tapered and the waistband reinforced to create an enhanced, sturdy fit. The flat front and overall slim fit make this a modern-looking khaki.
The American khaki collection comes in a full-range of custom size and fit options. It is the most customizable khaki available.
American-Made Khakis
The American khaki is a signature product for the Todd Shelton brand. We are proud to add this collection to our product line-up. In addition to our shirts, jeans and t-shirt collections, khakis are made start-to-finish in our New Jersey headquarters.
Product Details and Care
The American khaki collection is available in three introductory colors: light tan, medium grey, and navy. The sturdy all-cotton fabric originates from England. This khaki is best maintained with professional care.