Proper Hem Length is Critical
For your pants to look right, we recommend you take the time to understand how hem length affects your look. Hemming just a ½" inch can make the difference in your pants fitting adequately or great. See Todd Shelton Pants collection.
For this discussion, you will need to know about the 'break." The 'break' is where the end of your pants fall on your shoes, creating a horizontal crease in the fabric a couple of inches above the bottom of the pant. A longer pant will give you a deeper break, a shorter pant will give you a slight break.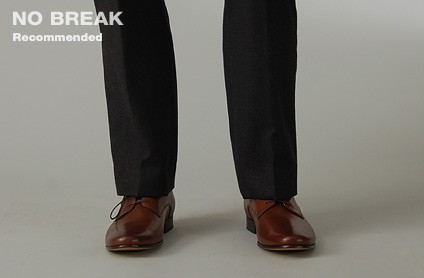 No Break
The pant drapes without a break or interruption.  The benefit of 'No Break' is clean lines throughout the leg.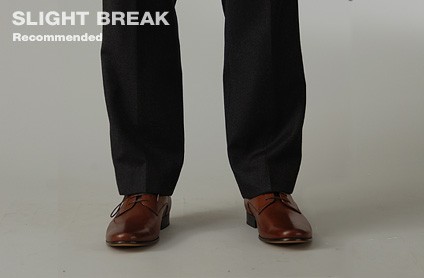 Slight Break
Notice the pant breaking a few inches above the bottom of the hem.  A 'Slight Break' provides more coverage to your footwear.  It also creates slightly more fullness throughout the leg compared to the 'No Break'.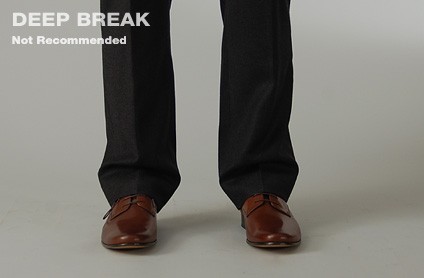 Deep Break
A 'Deep Break' creates an undesirable fullness throughout the pant.  Some men prefer a 'good break' because it provides more coverage to their footwear. A deep break may look good to the man as he looks down at his shoes or looking in a mirror, however a deeper break does not look good when the man is moving. The excess fabric gathers, not allowing the pant to hang properly.
Tips for getting the right hem length:
Get measured for the right hem length. Hem length is critical.
1. Don't think you are the same hem length for all pants. Depending on the rise (the distance from the waistband to the crotch seam), your proper hem length can vary one or more inches. This is why we recommend ordering your pants unhemmed, having your pants measured and then hemming them locally.
2. Some men will lean towards hemming the pants longer than necessary to ensure they are not too short, this can result in your pants being slightly too long. Tailors will leave a two to three inch outlet on the hem, so you will always have plenty of fabric to let out if necessary. So when selecting a hem length, shoot for the perfect length the first time.
3. Waist and shoes. Make sure your waist is comfortable and where you will wear your pant when being measured for hemming. Also, bring the shoes you are most likely to wear with the pants when being measured.
4. Communicating with the tailor. If you are not vocal, a tailor will alter to their taste. Their taste may not be your taste. You need to be involved with the measurements, so pay attention during the fitting and don't be afraid to speak up.
5. Try on the garment when you pick it up. This may be inconvenient, but those few minutes and you will ensure your garments fit right before leaving (tailors do make mistakes). Don't hesitate to ask for an adjustment if necessary.
Todd Shelton's Men's Pants are American made.