6 Brands Making Jeans for Short Men
Length is the big problem when shopping for jeans for short men. Having jeans hemmed is the solution, but it's not a good solution.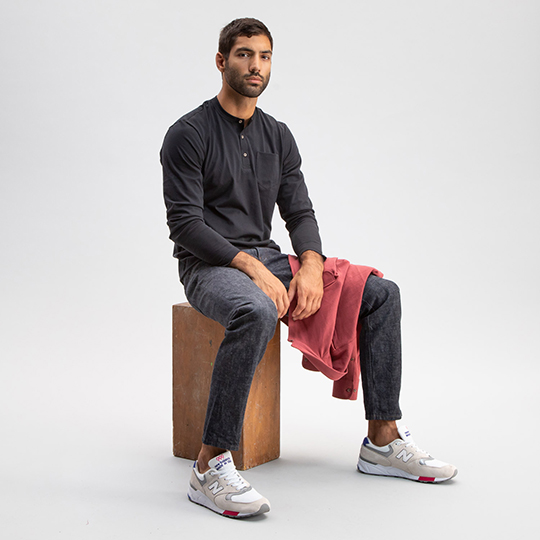 About this article
This article intends to match consumers with brands that make jeans for short men. We also discuss the three fit points shorter men should look for when shopping for jeans. This article is managed by Todd Shelton, a jean manufacturer in New Jersey, specializing in fit solutions for men of all heights. No commissions are made from links in this article.
Avoid being forced to hem jeans
Taking jeans to be hemmed is time-consuming, it's becoming more costly, there's a lot of room for mistakes, and to a discerning eye, hemmed jeans can look bad. Instead, find a brand that makes jeans for all heights, including short men.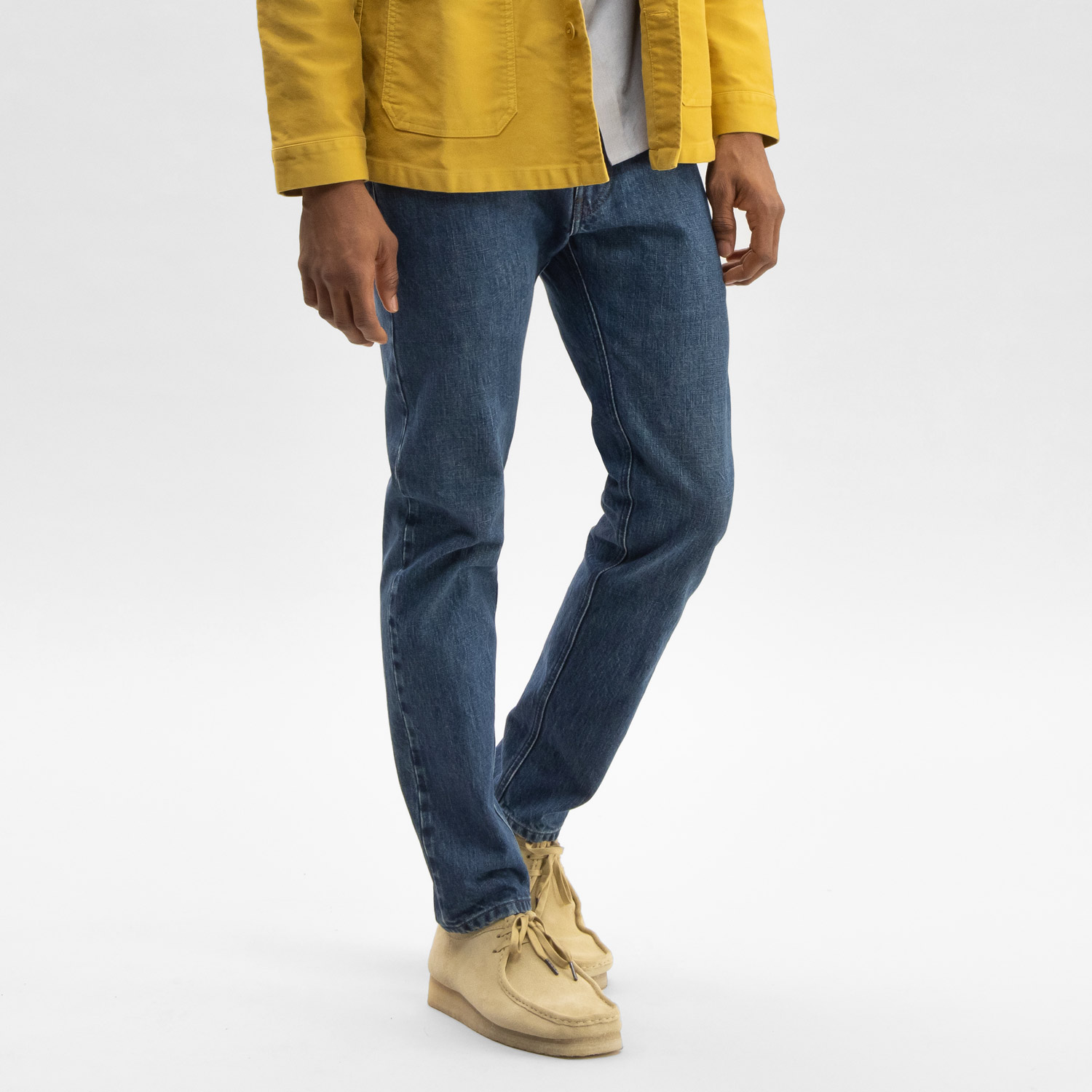 Detail-minded men who care about fit use us
We specialize in manufacturing a wide range of fit options designed to help men solve fit problems and improve the fit of their jeans.
See our jeans
6 brands making jeans for short men
These 6 brands are the only brands we're aware of that offer lengths below 28″, ranked in order of the amount of fit options offered. If we missed a brand, email us at support@toddshelton.com. To see a list of jeans brands offering 28″ lengths, see the bottom of this list.
Lengths from 24″ in 1/2″ increments – over $200
At Todd Shelton, we help men of all heights solve fit problems, and jeans is our best-selling category. In our East Rutherford, NJ factory, we make jeans from scratch and to each customers fit requirements.
28″ length is a popular length for our customers, 26″ is not uncommon, and we see 24″ or 25″ lengths regularly in our factory.
When a customer needs an inseam length shorter than 28", we start with Home Try-On (a program designed to find a person's fit before they order) to find their waist size, seat and thigh fit, knee and ankle width – then we adjust the inseam to meet their needs. We keep ankle opening the width the same for all inseam lengths.
---
2. Uniqlo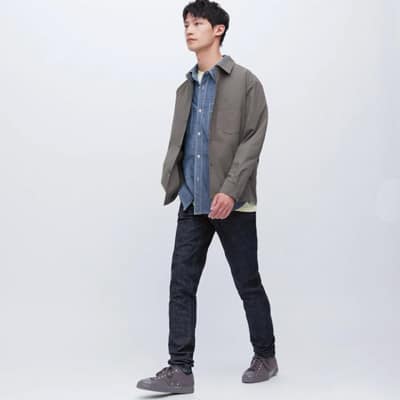 Lengths from 16″ in 1/2″ increments – under $100
Uniqlo is a traditional fast fashion brand based in Japan. They focus on timeless basics at affordable prices.
Considering the size of the company, Uniqlo surprisingly offers the most inseam length options of any brand we evaluated. Customers can choose inseam lengths starting at 16″ in 1/2″ increments. The brand offers different types of hemming options as well, such as plain-stitch or chainstitch hemming at an additional fee.
Uniqlo jeans come standard with a 31″ inseam length. If you choose to a length other than standard, the jeans cannot be exchanged or returned.
---
3. Peter Manning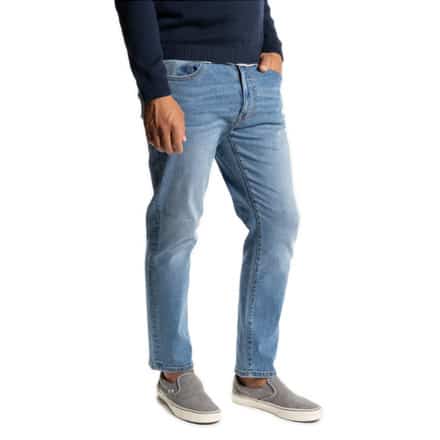 Lengths from 25″ in 1″ increments – under $100
Peter Manning New York was founded to specifically create better fitting clothing for short men. Their entire collection caters to "not-so-tall guy".
Peter Manning offers jeans in 25″, 26″, 27″, 28″, 29″, and 30″ lengths. They also scale other fit points, like Rise, to fit shorter men just right.
---
4. Ash & Erie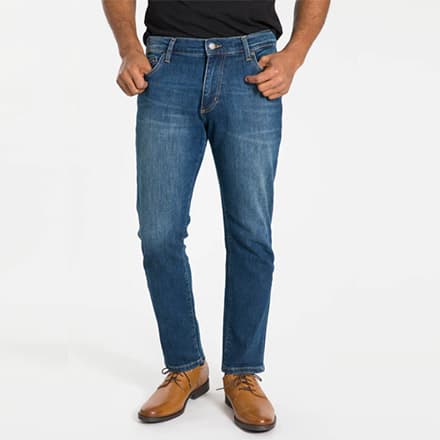 Lengths from 25″ in 1″ increments – over $100
The Ash & Erie mission is to help short men look and feel their best to have the confidence that they deserve. They design clothing for men 5'8" and below.
Ash & Erie jeans come in 25″, 26″, 27″, 28″, and 29″ lengths. Like Peter Manning, they properly scale measurements to "draft the perfect fit for shorter men."
---
5. Under 5'10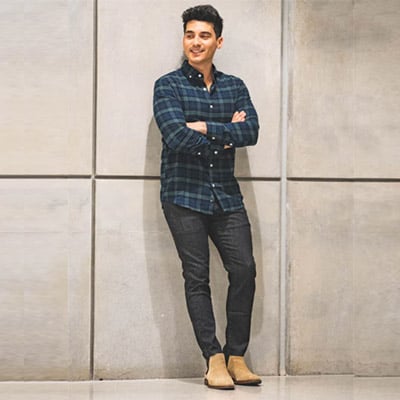 Lengths from 25″ to 27″ – under $100
Under 510 makes clothing for shorter guys. With free exchanges and returns on all orders, you the freedom to try multiple items and sizes with the ability to send anything back at no cost to you.
---
6. Lands End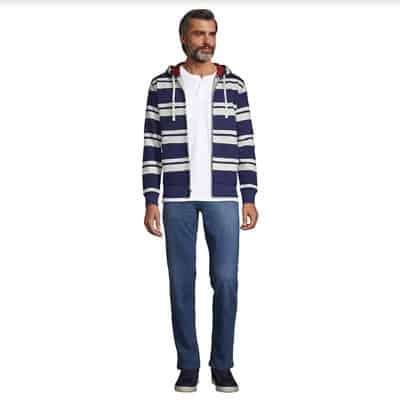 Lengths from 26″ in 1/2″ increments – under $100
Lands End is the biggest company on this list. It makes us wonder, if a company the size of Lands End can offer 26″ and 27″ lengths, why can't Levi's or LL Bean?
---
The 3 most important fit points with jeans for short men
For all men, primary fit points like waist, seat, and thigh are unrelated to height and should be the top priority when shopping for jeans. After that, secondary fit points like rise, leg opening width, and length should be considered.
Men of all heights can improve how they look in their clothing by being aware of how proportions, colors, and patterns affect their appearance. We've all heard examples like horizontal stripes shorten and vertical stripes lengthen.
For us shorter men, being aware of three secondary fit points: length, leg opening width, and rise, uniquely related to our height, can help us improve how we look in our jeans.
The priority is to find a balance of proportions to lengthen (or not shorten) their appearance.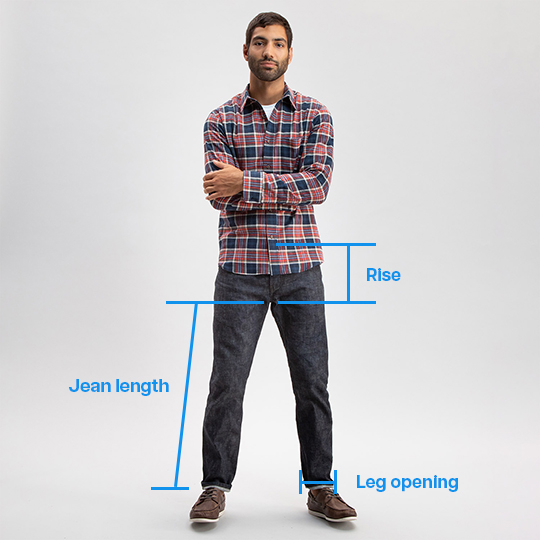 1. Jean length: the most important
What is the right length for jeans? The right jean length varies depending on preference, but our recommendation for jean length is "stop at the top, plus ½." Which means the jean should stop at the top of the shoe and extend ½" beyond that. This formula doesn't create a break and provides enough extra length for the wearer not to feel like the jeans are too short.
We recommend this formula for all customers unrelated to height, to ensure clean lines that visually lengthen the wearers appearance in jeans.
2. Leg opening (or Ankle) width: the second most important
Leg opening width is the measurement across the leg just above the hem, it's also called Ankle width. For shorter men, removing excess volume or folds of fabric around the ankle can also lengthen their appearance and help them look better in their jeans.
To learn more about finding the best leg opening width for you, read our article about leg opening width
3. Rise: the lesser-known fit point to consider
Rise is the measurement from the top of the waistband down to the crotch seam. It affects how high a person can pull a jean up onto their waist or how much room they have in their crotch area. Jean rise measurements are described as mid-rise, high-rise, or low-rise.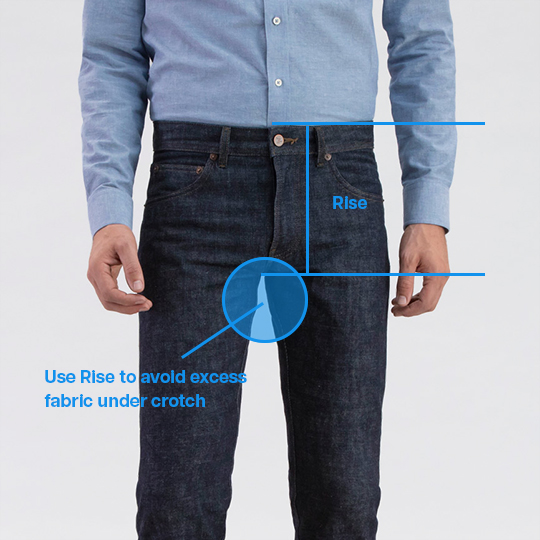 Height doesn't necessarily impact rise. Rise measurements relate more to the personal preference of how high or low a person wants to wear their jeans on their waist. However, shorter men should evaluate if a rise measurement is too long. If the rise is too long, it'll create excess fabric in the crotch area, which can shorten the wearer's appearance in jeans.
---
It's good business for brands to be more inclusive with jeans for short men
According to our sales data, 31" is the average length for the American consumer. Many brands offer 30" and 32" and 34". But if 31" is the average, why don't brands also offer to 28" and 26"?
The answer is inventory management. Brands would rather have longer inseams in their inventory because they're easier to sell. A customer who needs 26" can buy a 34" and hem to 26", but the opposite isn't true. At the end of a season, a brand would rather have a 34″ length in-stock, and not a 26″.
Additionally, shorter inseam lengths are being worn by men of all heights. At Todd Shelton, we have customers who are above average height ordering 26″ and 28″ as a style choice.
But unfortunately, only a few brands offer lengths below 28" and many premium niche brands only offer one inseam length, like 34. Here we list brands that offer multiple jean lengths, sorted by price tiers, then sorted by the shortest length options first.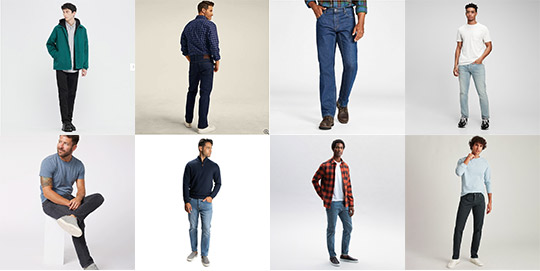 If you know a brand that offers jean lengths starting at 28" or lower, please email us. No commissions are made from the links below.
Brands under $100 / offering 28" lengths:
Gap – Lengths starting at 28"
L.L. Bean – Lengths starting at 28"
Dearborn Denim – Lengths starting at 28"
Everlane – Lengths starting at 28"
Brands over $100 / offering 28" lengths:
Bonobos – Lengths starting at 28"
Nudie – Lengths starting at 28"
Brands that should offer 28" lengths and less, but surprisingly don't:
These brands have the scale to offer better lengths for all men who shop with them. If you find an error on this list, please email us.
Levi's – Lengths starting at 29"
Lee – Lengths starting at 29"
Wrangler – Lengths starting at 30"
J. Crew – Lengths starting at 30"
Ralph Lauren – Lengths starting at 30"
Diesel – Lengths starting at 30"
Madewell – Lengths starting at 30"
Lucky – Lengths starting at 30"
American Eagle – Lengths starting at 30"
AG – Lengths starting at 32"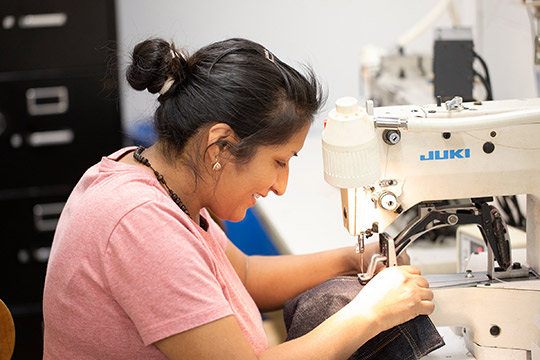 Recommendations for buying jeans that must be hemmed
1. If you know you're buying jeans that you'll need to hem, try to buy jeans with a length closest to the length you'll be hemming. For example, if you know you need to hem at 26", try to buy 30" (if that's the shortest available). This will keep the leg-opening width closer to the original width.
2. Try on the jeans with the shoes you'll be wearing most often before deciding on the hemmed length.
3. Ask the person doing the alteration if they have thread that matches the color and thickness of the original thread. Threads of similar color and size will help the hemmed topstitching look original.
4. If the jean is a washed jean and the hem has color variations, ask the person doing the alteration if they use "original hems." Original hemming is a process of cutting off the original hem and reattaching it. Using the original hem preserves the hem as it came from the manufacturer and will look more authentic.
---
If you have specific fit needs or challenges, please feel free to contact us.

Todd Shelton is men's clothing brand based in New Jersey. Founded by Tennessee native Todd Shelton, the brand's collections offer industry-leading fits that are manufactured in the company's NJ factory and sold exclusively online.