Are Jeans Business Casual?
Yes, jeans are business casual. But not all jeans are business casual. Follow a few guidelines to ensure your jeans are acceptable for business.
Why jeans became business casual
American businesses are learning it's good business to let people be themselves. If a person feels more like themselves in jeans, compared to khakis or trousers, there's a chance they'll be happier in the workplace—and more productive.
For this reason, American business culture is evolving to accept jeans, but you need to know which jeans are (and which jeans aren't) appropriate as business casual.
See our list of recommended business casual jean brands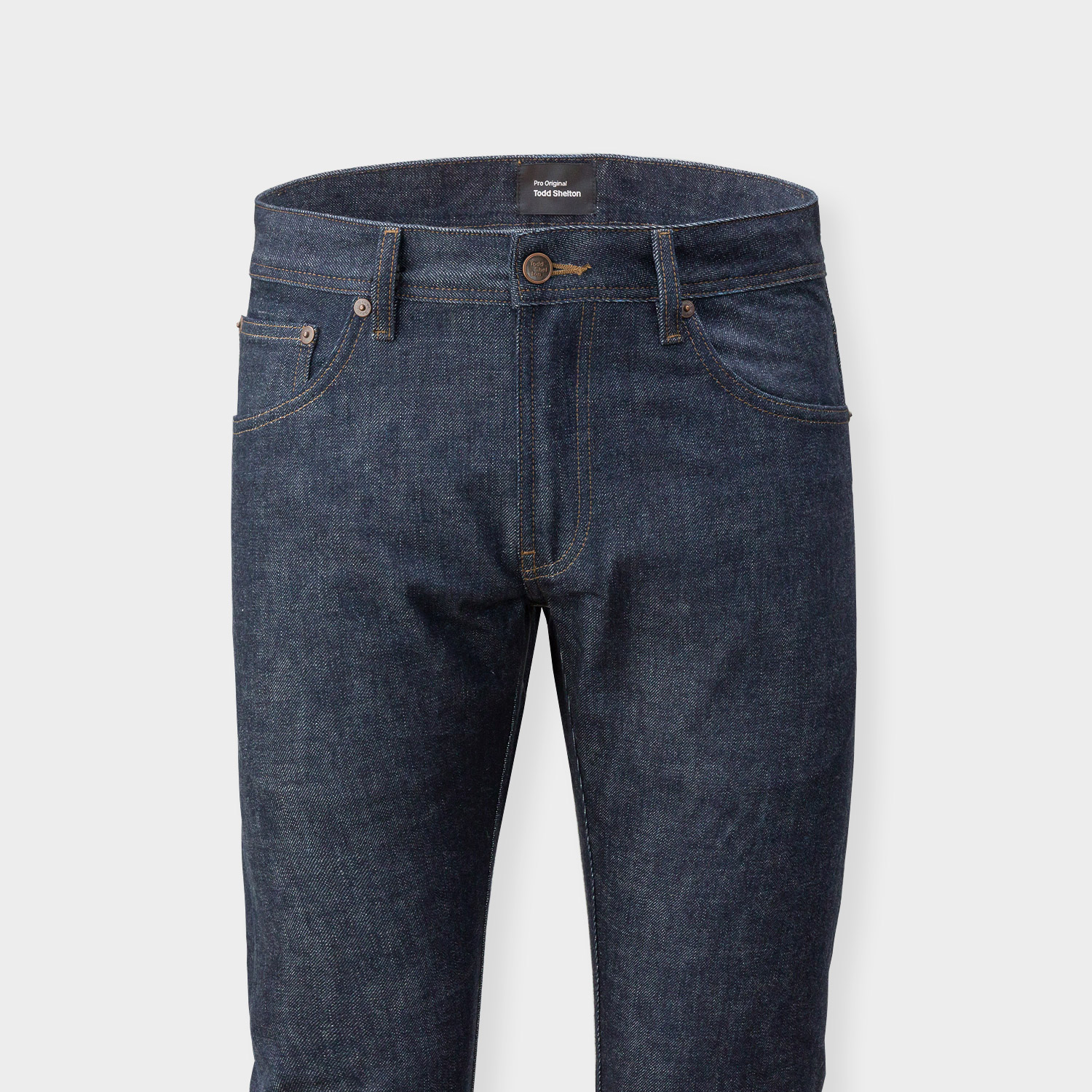 Detail-minded men who care about fit use us
We specialize in manufacturing a wide range of fit options designed to help men solve fit problems and improve the fit of their jeans.
See our products
Business leaders popularized wearing jeans while doing business
Steve Jobs wearing jeans on stage to introduce Apple products was a turning point for jeans being accepted in business settings. Today, business leaders, like Jeff Bezos and Mark Zuckerburg wear jeans when presenting business ideas to the world.
Why do business leaders like to wear jeans? Jeans make people more relatable to their audience and their peers.
Leading companies and industries have taken notice. Financial giant Goldman Sachs started allowing jeans in the office in 2019. Law firms throughout America are adopting Dress for Your Day, meaning you can wear jeans when suitable.
When the dress code states business casual, you're good to go with jeans
Any person who sets a business casual dress code – for an office or an event – is expecting to see jeans. If they do not want to see jeans, they need to add the disclaimer "no jeans" or set the dress code to Business Professional or Business Formal.

If you continue to be uncertain if jeans will be accepted, the easiest solution is to wear khakis or dress trousers. But if you will feel more confident in jeans, email the event organizer and ask, "Are jeans OK for this event?"
5 tips to ensure your jeans are business casual
Here are a few ideas, albeit obvious, that you can consider if you want to make sure you look appropriate in jeans at a business event. These are not rules; they're simply ideas to consider.
1. You can wear a collared shirt
2. You can tuck-in your shirt
3. You can wear a less casual belt
4. You can wear less casual shoes
5. You can wear a blazer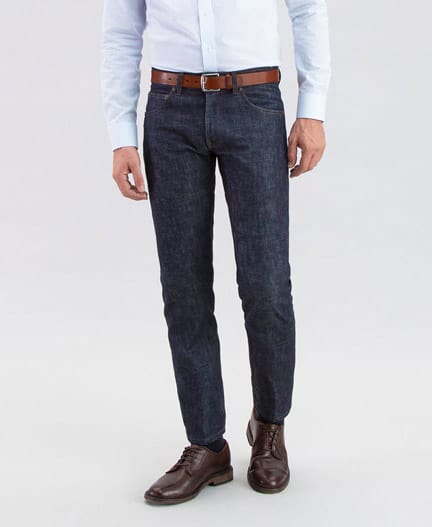 But there are exceptions. Here is an example of a t-shirt, untucked, but with a blazer—it's business casual with a modern vibe.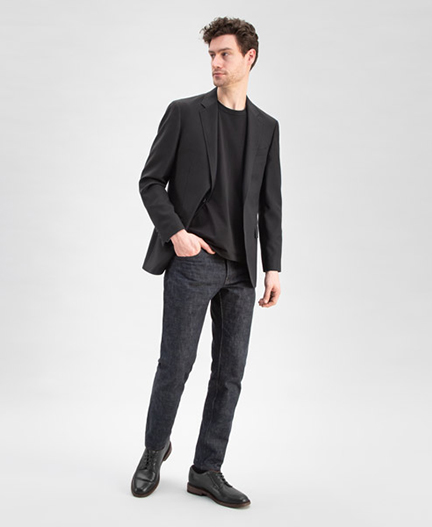 Many people will play it safe when it comes to their business jeans, for a reason
It may not be fair, but people, coworkers, and your customers will make judgments (conscious and unconscious) about you based on how you dress—especially until they get to know you. After they get to know you, how you dress is less important.
Not all judgments are bad, and people's judgments can be neutral, positive, or negative.
But most people don't want others to judge them negatively, and for them, neutral or positive is the judgment they desire. So when it comes to wearing jeans for business, many people will play it safe.
Guidelines for business casual jeans
Business casual jeans are acceptable in a range of colors or shades—from dark to light, but are safer when they aren't distressed.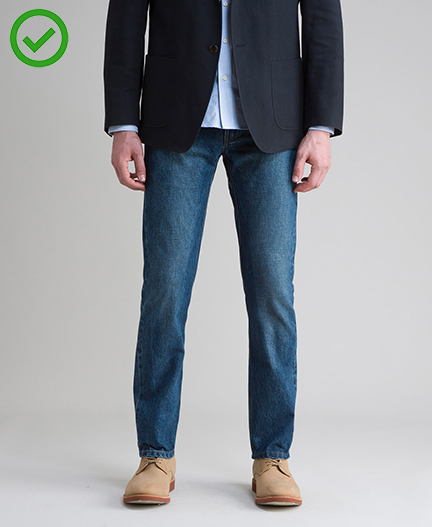 Distressing (see photo below) tends to make jeans too casual for business wear. Many brands add fake distressing to give the jean a broken-in look and feel. This style of jeans may have a place in your wardrobe, best suited for everyday-casual or lifestyle events, but maybe not for doing business for most professions.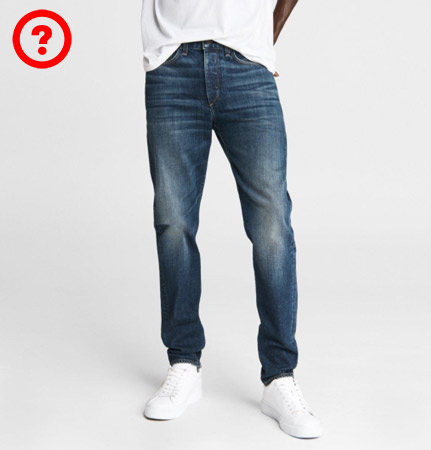 Low contrast stitching and low-contrast hardware (see photo below) can create a neutral aesthetic, which works better with a range of shirts and for different occasions.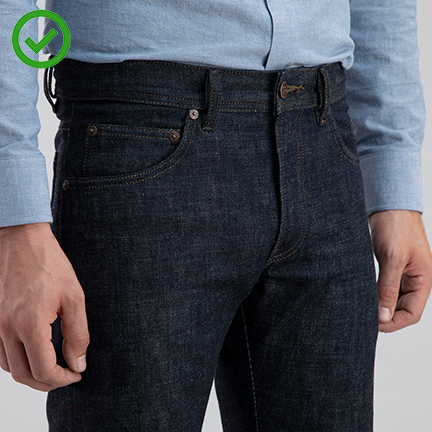 Many brands add logos and design details (see photo below) to their jeans that make them identifiable, but as a result, the jeans could become too casual for business occasions.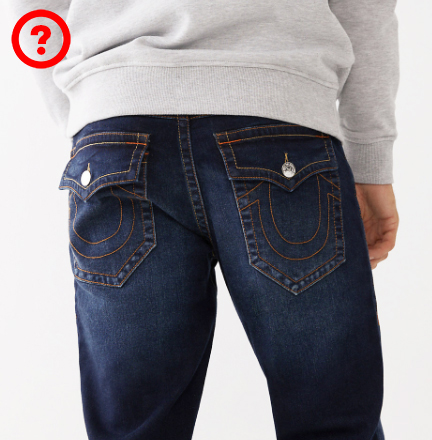 It's tough to avoid branding on jeans, but the more branding a jean has, the less appropriate it becomes for business.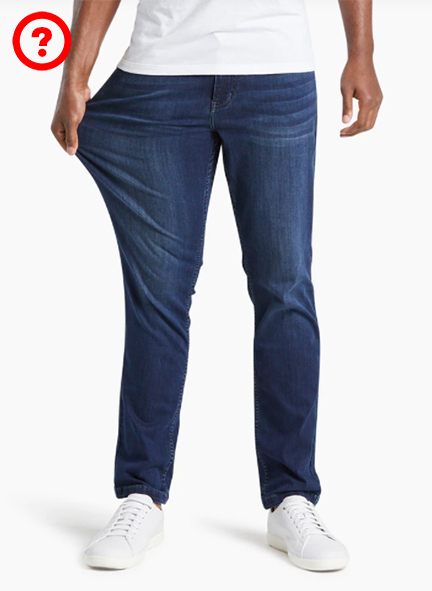 Our final suggestion is to use discretion with super-stretchy jeans. Super-stretchy jeans are made for comfort. The denim is woven with fibers that make the jean comfortable. Some men like these types of jeans because they feel like "sweatpants" or they "could sleep in them." But in some cases, super-stretchy jeans look too casual for doing business.
Our recommendation
Pro Original got its name as the Original Professional Blue Jean. Pro Original Darks is our best-selling product and the jean we recommend most often. It's been in our collection for over 10 years.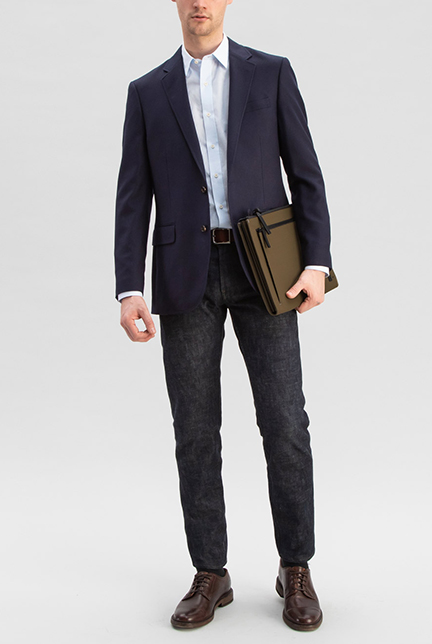 Pro Originals midnight navy color is darker compared to indigo-dyed jeans, and its low contrast stitching and low-contrast hardware allow it to be worn with a range of shirts and for different occasions. At 13 oz, it's a classic weight jean with a sturdy feel. We offer Pro Soft Darks, at 11 oz, as a lighter weight, softer alternative.
---
We hope you found this article helpful. If you have questions about or thoughts on this article, please contact us.


Todd Shelton is men's clothing brand based in New Jersey. Founded by Tennessee native Todd Shelton, the brand's collections offer industry-leading fits that are manufactured in the company's NJ factory and sold exclusively online.