Don Rongione: American Manufacturing's Constant Supporter
You'd be hard pressed to find anyone with as much passion for—or doing as much to save American manufacturing—as Don Rongione.
Don Rongione is president and CEO of America's oldest hat maker, Bollman Hat Company.  He is also founder and president of American Made Matters, an organization dedicated to revitalizing American manufacturing.
Actions That Speak Louder Than Words  
After Don Rongione arrived at Todd Shelton, the conversation quickly turned to American made products. He pointed out what he was wearing, every item was Made in the USA, except for one.
Rongione has deep roots in American manufacturing. He was raised in northeast Philadelphia, in a neighborhood of twin houses. His father, Nick Rongione Sr., was a cutter in an overcoat factory and maintained a strong sense of pride in American-made goods. He passed these values to Rongione and helped shape his views on Made in USA. The one non-American made item Rongione wore…his father's Swiss watch.
A Leader With Compassion For His Company's Workers   
Rongione is CEO of Bollman Hat Company, where he began working in 1982. Bollman (founded in 1868) is America's oldest hat company and has a rich tradition of American manufacturing. Rongione's experience leading Bollman through the surge of U.S. off-shoring and economic downturn have had a profound impact.
Bollman faced difficulties in 2007 and 2008, after large-scale manufacturing moved overseas. The company lost business to low-price competition and faced downsizing. As a result, Rongione was forced to lay-off 100 manufacturing employees.
"Those of us who have tried to keep manufacturing in the U.S. have all made sacrifices," says Rongione.
At the time, he experienced tremendous pressure to outsource all of Bollman's hat manufacturing. And while some business was outsourced, his belief in Made in USA allowed him to hold strong and maintain a U.S. manufacturing presence. Consequently, Bollman's domestic manufacturing has been its most profitable sector during the past two years.
Rongione believes the company would have suffered dire consequences if all manufacturing had been sent overseas. The team would have been distracted by the loss of commitment to its people and history, and problems with quality, inconsistency and loss of innovation would have emerged.
Rongione tells a story of a Chinese factory Bollman contracted to make its product. The factory began making knock-offs on the very machines Bollman owned. Rongione said this is just one downside of sharing proprietary manufacturing information.
This and many other situations only strengthened Rongione's resolve to bring more manufacturing back to the U.S. "After the company's downsizing in 2008, I began thinking about what I could do to prevent this from ever happening again. Supporting American made products has always been in my blood" said Rongione.
American Made Matters
Rongione launched American Made Matters on July 4, 2009, the organization's focus is educating consumers about the importance of buying Made in USA products.
Made up of more than 350 member companies in 45 states, American Made Matters represents industries from apparel, to toys, to steel fabrication.
Rongione believes his work with American Made Matters is some of his most important. "It's helping to make the American dream possible for people. Providing better opportunities for children through education, giving them a chance to achieve in life, and giving people the ability to do what they want to do," says Rongione. "But all of this requires financial independence. If we support U.S. manufacturing, we support jobs. Manufacturing creates more jobs than any other sector."
Job growth within U.S. manufacturing has a ripple effect. According to Rongione, every new manufacturing job creates three to five supporting jobs. And creating jobs increases demand for labor and increases worker income, which ultimately strengthens communities.
Consumers Have The Power To Create Change
Rongione believes change must come from the consumer. "The consumer has to do it. We can't rely on government. Consumers have spending power. With government, there is too much gridlock. We must focus on consumers because they'll listen. When Americans demand USA-made products from retailers, it can have—and is having—an impact."
Rongione acknowledges there will always be cheaper places to manufacture, but says the cost differential to manufacture overseas isn't as steep a slope as it once was.
China is facing a workforce demanding wage increases and a population looking for better quality of life. He believes that if the costs of making product in the U.S. can drop and wages level off, we can become more competitive. American manufacturers will have to compete on quality and other strengths, and focus on relationships with the customer.
Rongione sees the closing of discount stores including Kmart and Wal-mart as a sign that people don't necessarily want cheap products. In addition, he is hopeful that millennials will help turn the tide.
To honor his late father, Rongione established American Made Matters Day, a day all Americans are encouraged to buy at least one USA-made product. American Made Matters Day is November 19, which is both Rongione's father's birthday and the start of the heaviest consumer buying season.
Hat Man
As our meeting and the day neared its end, we relaxed for a moment and began to talk hats. Rongione shared these interesting hat facts:
Not long after joining Bollman in the early 1980s, Rongione saw hat sales boom when the John Travolta film Urban Cowboy created massive demand for 'urban cowboy' style hats.
Sales more than tripled, as did Bollman's workforce–growing from 350 to 1,200 employees. The company faced difficult decisions that threatened its survival when the urban cowboy hat trend wore off.
---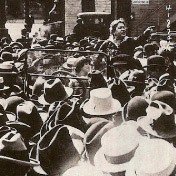 American men and women routinely wore hats until the 1950s, it was an absolute wardrobe essential. The increase in demand for automobiles in post World War ll America certainly played a role in diminishing hat wear.
Hats provided protection from the elements as people walked long distances to work or to shop. Yet as automobiles became more essential in 1950s suburban living, people began walking less and spending more time in the protection of their cars.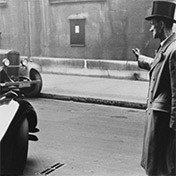 Then, as cars got smaller and car ceilings became lower,  it was difficult and inconvenient for men to wear a hat in the car.
---
Fashion and Hats
The longer hairstyles of the 1960s and 70s were another major factor that contributed to reduced hat wearing. Men wanted to show off their long locks instead of being burdened by a hat.
---
Some cite President John F. Kennedy's 1961 inauguration ceremony as a turning point in hat wearing. President Kennedy was the first president to not wear a hat during a presidential inauguration.
---
Everyone at Todd Shelton enjoyed Don's visit. Our team has a deep respect for his leadership and efforts to save American manufacturing and support the American manufacturing worker. What Don Rongione does is the definition of "a labor of love."