Natural Cotton Shirts vs Non-Iron Shirts
Let's begin with full disclosure, we prefer – and we only sell – natural cotton shirts, not non-iron shirts. However, there was a short time when we made and sold non-iron shirts.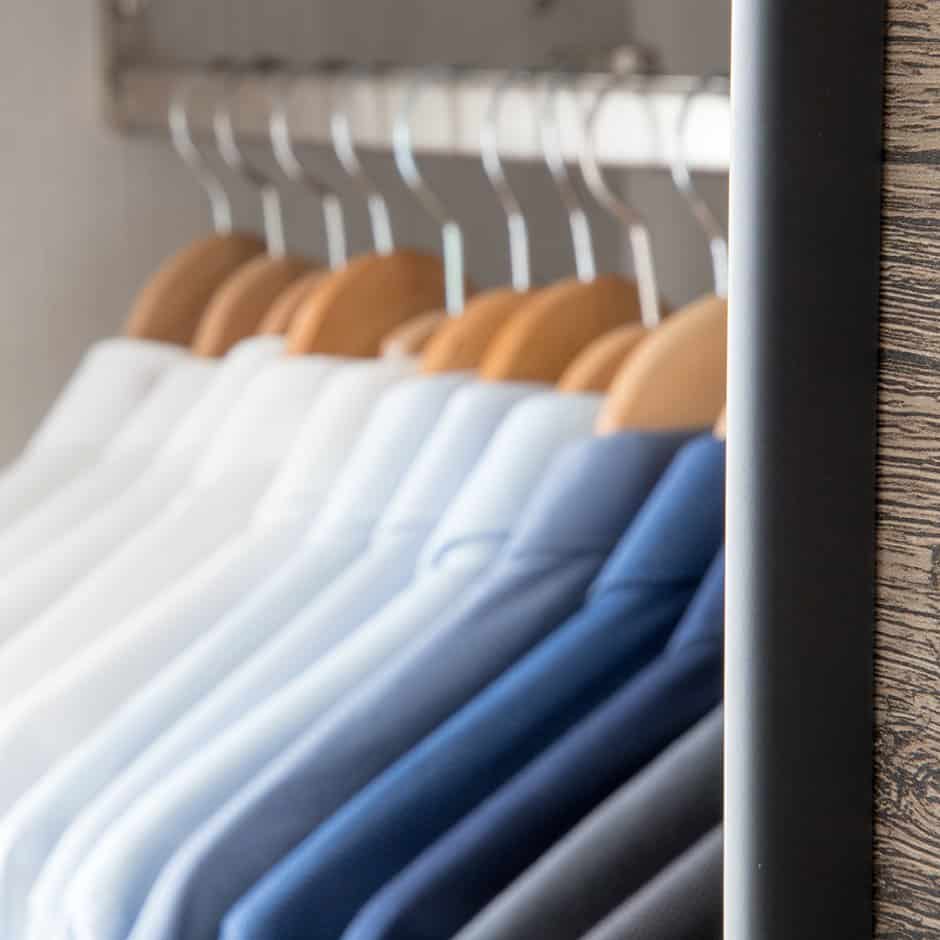 Men who like natural cotton shirts typically value the breath-ability and softer look. Also, these men appreciate the old-world charm of all-cotton shirts, and they're not bothered by the fabric rumpling after a long day.
Men who like non-iron shirts (also called wrinkle-resistant shirts) typically value the convenience, low maintenance cost, and looking as polished at the end of the day as when they started.
Here's a Reddit thread that debates the pros and cons of both shirt types.
And here's an Ask Andy About Clothes thread on this topic.
In these threads, you'll read why men value each type of shirt differently. You'll see both have their fans.
Our opinion for our customer
We've paid attention to the nuances of natural cotton shirts vs wrinkle-resistant shirts for nearly twenty years. The style and beauty of natural cotton shirts is what we want for our customers. It's relatable, it has a natural ease – there's even something real and authentic in how the fabric rumples. On the other hand, wrinkle-resistant shirts have uniform-company feel, they somehow lack charm.
Reports claiming non-iron shirts are unsafe
The New York Times and The Wall Street Journal have both released articles on the potential hazards of non-iron shirts. Non-iron shirts are saturated with a formaldehyde-based solution to achieve their wrinkle-free surface. The shirts are baked to fix the chemical solution into the fabric. The formaldehyde-based solution bonds cotton fibers together, minimizing how the fabric creases.
Opponents of wrinkle-resistant shirts have multiple concerns: absorption of chemicals into the body when wearing, exposure to formaldehyde by apparel workers. In addition, there is an overall risk of chemicals polluting the environment.
Proponents of non-iron shirts believe the amount of formaldehyde used is safe and does not cause skin irritations (although the US government does not regulate formaldehyde levels in clothing). To our knowledge, there are no published reports of wrinkle resistant shirts harming people beyond skin irritation.
At Todd Shelton, we made non-iron shirts from 2004 to 2008, we had no reports of skin irritation. We discontinued non-iron fabrics as we learned more about the potential hazards. However, we don't know if wrinkle-resistant shirts are harmful, we advise men to consider what they are comfortable wearing.
A quote from the WSJ article: "As everything moves to being more environmentally friendly, these artificial shirts seem out of step," said Greg Broom, founder of MixCraft, a New York juice-drink brand. Mr. Broom likes his cotton shirts the same way he prefers his fruit juice: pure and pressed. "Wearing formaldehyde, the chemical used in embalming, has never sounded tempting to me," he said.
If you have thoughts about this article, we'd love to hear from you. Please reach out to us at support@toddshelton.com.