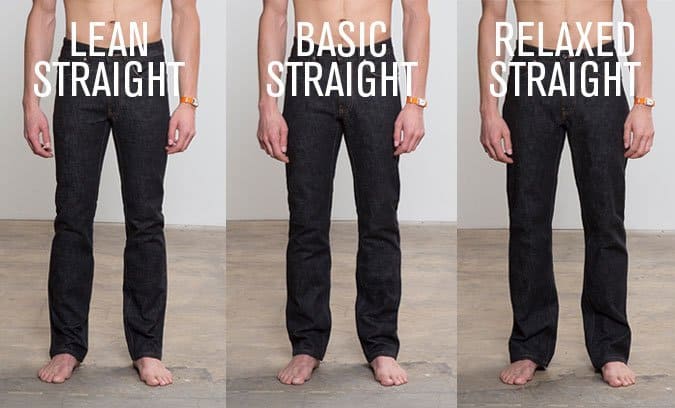 You know if your legs are lean, average or large.
And you probably know if prefer basic or relaxed fit jeans.
If you have large legs, it may be necessary to wear relaxed jeans (you need the room).  But if you have less than large legs, you have decisions to make, and these are no small decisions.
I'm talking about decisions that impact self-expression.  And no other garment impacts self-expression the way jeans can.
So let's think about jean fit for a minute – and try to come to some conclusions.
And for you large legs guys, you still have a decision to make.
Core fit options: Lean, Basic, or Relaxed
We offer three core jean fits to accommodate men of varying leg sizes.  They are: Lean, Basic and Relaxed.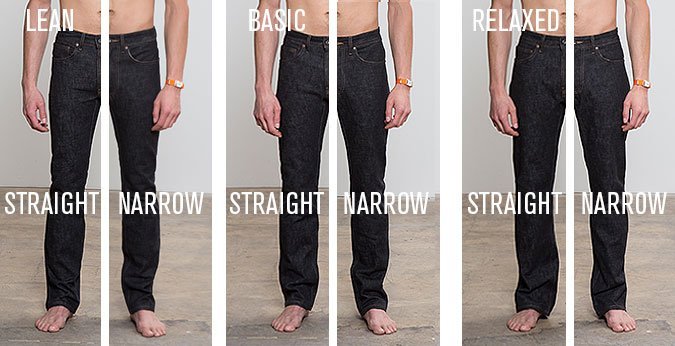 Paul is wearing size 29 waist in all three fits.  And Paul has average size legs, but in relation to other men with 29 waist, his legs are larger than average.  You can see he fills out the Lean fit completely, he has a bit of room in the Basic, and the Relaxed looks roomy.
It's important to note that if Paul were a 32 waist and his legs were the same size we see here, the jeans would fit him differently, they would be roomier.  For every waist size increase, the entire jean increases in size (proportionately).
It's also important to note that Paul is wearing all three fits well.
Secondary fit options:  Straight or Narrow leg width
Each of the three core fits has two secondary fit options: straight leg or narrow leg.
Straight and narrow only differ at the knee and bottom opening; the waist, seat, rise, and thigh measurements are static.
Narrow leg, the way we interpret it, is reduced fullness from the knee down (approximately 1" less radius compared to our straight-leg).  We wrote an article titled Straight-leg vs narrow leg.  Is one preferable?
The straight vs narrow decision is more about style than necessity.  Straight-leg jeans are undoubtedly more popular, narrow-leg jeans are more current.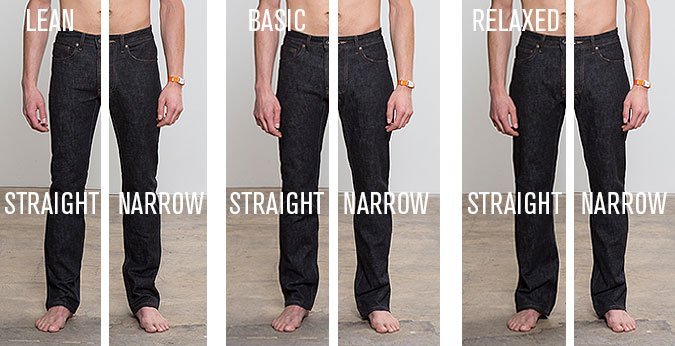 As you see in the images above, the difference between straight and narrow is not great, it's a slight adjustment.
Lean fit
Lean is our newest fit.  Developed for men with lean legs, it removes excess or unnecessary fabric.  Removing excess fabric, by choosing a less roomy fit and/or by choosing narrow instead of straight-leg, can create cleaner lines and lengthen your profile.
The Lean fit also offers men with 'average' size legs a more fitted option (men with large legs already have a fitted option by sizing down to Basic).
If you have lean legs, embrace it, without question.  Don't try to create the illusion of a fuller leg with a fuller jean.  I recommend you start with the Lean fit.
CONSIDERATION:  You may have lean legs and always buy relaxed fit jeans.  If the decision is simply for comfort, I'd challenge you to size down to basic or a lean.  If the decision is style based, and you have a plan, I wouldn't challenge it.  There's a small group of serious, respected denim guys that don't like lean jeans.  They wear roomy, generally raw jeans.  Their look is unique and these men are cool.  Our Relaxed fit in raw denim would work for them.
Basic fit
The basic fit is our most popular.  It's been field tested by myself and customers for years and we've been improving it the entire time.  We'll continue to monitor it.  But for now, we love it, just the way it is.
This fit is best suited for: men with average size legs, men with lean legs that don't want a lean jean, and men with larger legs that prefer a close fitting jean.  It's our most versatile fit.
Relaxed fit
The good news for guys with large legs:  you can fill out a jean nicely, embrace it.
Our relaxed fit is not designed to be a baggie jean.  It's designed to give men with large legs enough room.
I've seen this fit on numerous men with large legs, it doesn't look like a  "relaxed" jean, it looks like our basic fit.  We named it 'relaxed' because every man knows 'relaxed' means roomier, it's easy to understand.
But for this fit to look its' best, it requires large legs.
A man with lean legs or even legs on the lean side of average will look like "he doesn't know any better" in this fit.  A man with average size legs can wear this fit well if his primary desire is comfort or a more casual look.
Earlier in this article, we referenced that 'Relaxed' fit men have a decision to make.  That decision is: straight-leg or narrow-leg?  As we discussed, there's not a great difference between straight and narrow, but it's important enough of an option for us to offer it.  A narrow can clean up excess fabric at the bottom of your jean and visually lengthen your height.  In comparison, a straight leg is always popular; men that have large knees and calves should choose straight, and men that prioritize comfort should choose straight.
Men with larger waist sizes
IMPORTANT:  Men with waist sizes of 35 and above can tend to think that since their waist is larger, they need a roomier jean.
This is not true.
We offer Lean and Basic fits up to size 38 for a reason.  If a man with a 36 waist and lean legs chooses our relaxed jean because he is larger through the waist and torso, the jean will have too much excess fabric.
Base your overall fit decision on your leg size and style preference, not your waist size.
In conclusion
If you read this entire article, our hope is you're more curious about your "best" jean fit.  Maybe it challenged you to think, "is what I believe to be best, indeed the best?"
If you have any jean fit questions, please contact us, it's what we're here for.