You can certainly wash your jeans as you do any garment, but we don't recommend it. If you want to create sharp fades, and bring out the high's-and-low's (which makes your denim unique), you'll need to wash your jeans differently than your other clothing.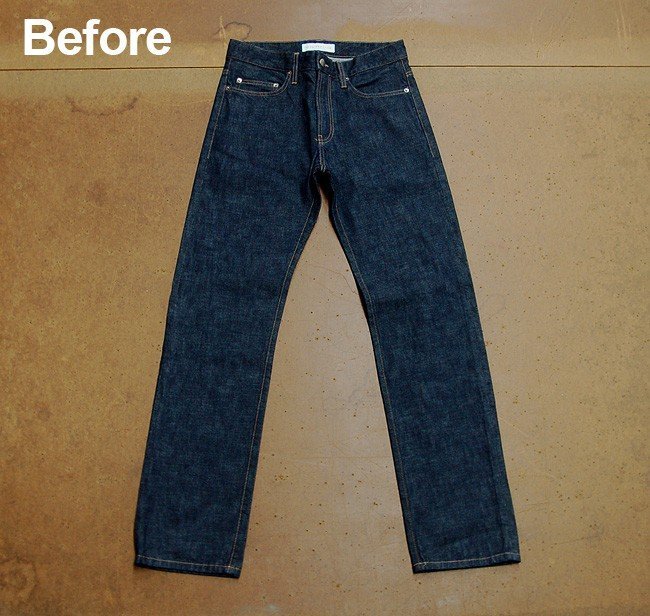 Todd started with selvedge dark jeans similar to these in 2010.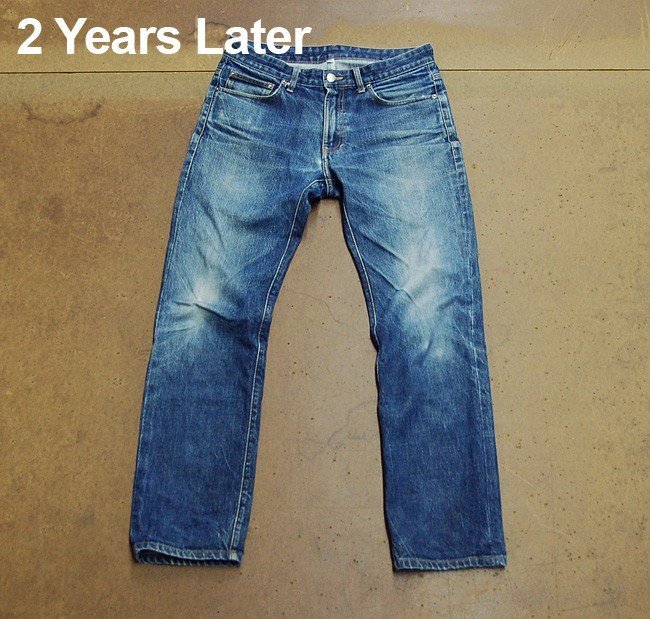 After more than two years of daily wear (300 plus days per year) and infrequent, disciplined washing; the natural wear surfaced.
Wait Till You Can't Wait Anymore
If you take just one piece of advice from this article, we hope it will be that you don't need to wash your jeans as often as other garments. The more you wash your jeans, the more character you strip away.
Some guys will go months without washing their jeans. Denim has the ability to "shake off" most anything you'll accidentally or purposefully rub on it during a day, so constant washing isn't necessary. Unhealthy bacteria won't build up and they shouldn't begin to smell – if they do, then wash them.
The day will come when you know it's time for a good cleaning; until then, resist "knee-jerk" washing. If you don't do your own laundry, have this discussion with the person that does.
Turn the Jeans Inside Out
Most guys won't turn their jeans inside/out before washing; it's an extra step they're unsure makes any difference. But turning your jeans (or any garment) inside/out has a purpose.
During the wash process jeans rub against each other, this abrasion (over time) breaks down the integrity of the denim's cotton fibers. By turning your jeans inside out, most of the abrasion takes place on the fabrics under side, minimizing surface abrasion. This is most important for keeping dark jeans dark and clean.
Don't Stuff Your Washer Full
Imagine a washing machine packed solid with jeans; during the agitation cycle the jeans constantly rub against each other. They have no room to move freely, increasing abrasion.
Now imagine a washing machine half full of jeans; during the agitation cycle the jeans are suspended in water. They can move without obstruction, reducing abrasion.
Wash Cold, Gentle Cycle
Washing in cold water helps preserve the denim's indigo color. Washing in hot water can cause color loss and increase shrinkage.
The "Gentle Cycle" is the best setting to reduce abrasion and minimize color loss, while still cleaning the jeans. A less vigorous wash cycle will help maintain the high-and-low distress.
Air Dry
From the washing machine, turn your jeans right-side-out and lay them flat or over a chair to dry. Once dry (several hours later), they'll be a bit more stiff than if you tumbled them, but they'll loosen up quickly when worn.
If you have any questions or would like to contribute to our recommendations for denim jean washing, please don't hesitate to contact us.