What's our favorite thing about a vest?  A vest that fits right creates a clean, structured silhouette by framing your shoulders and torso while pulling in and concealing excess shirt fabric around your waist.  But to do this it must fitted, not baggy.
Visually, a vest needs to be fitted to frame your shape properly – if fitted, a vest will broaded your shoulders and define your waist (slenderizing).  Functionally, a vest needs to be fitted to maintain warmth.  A baggy vest will lose heat.  If heat is not needed, it can always be controlled with the zipper.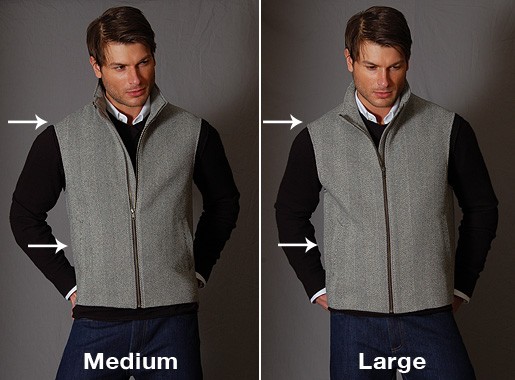 Compare the Medium to the Large vest.
If Ordering
We size our vests to correspond to your Todd Shelton shirt size.  If your Todd Shelton shirts are M/L, we'd recommend ordering a M/L vest.  If you'd prefer an even more fitted vest, order one size down.  Since we offer 'In-Between' sizing, one size down is considered a tweak and should not be too small.
If you do not have a Todd Shelton shirt for a reference point, we recommend ordering the size you always do with other brands.  Todd Shelton sizing is well within industry standards, yet favors a more tailored fit.  View our sizing chart, you may find our 'In-Between' sizing to be a perfect fit option for you.
We hope you found this article helpful.  Would you like to view our vest collection?