2019 Sweatshirt Fabric Challenge Results
In December 2018, we asked a group of customers to participate in a sweatshirt fabric test challenge. We delivered two sweatshirts to participants, in Test Fabric A and Test Fabric B, and asked participants to wear them often. We checked-in throughout the process, then chose a winning fabric based on customer feedback.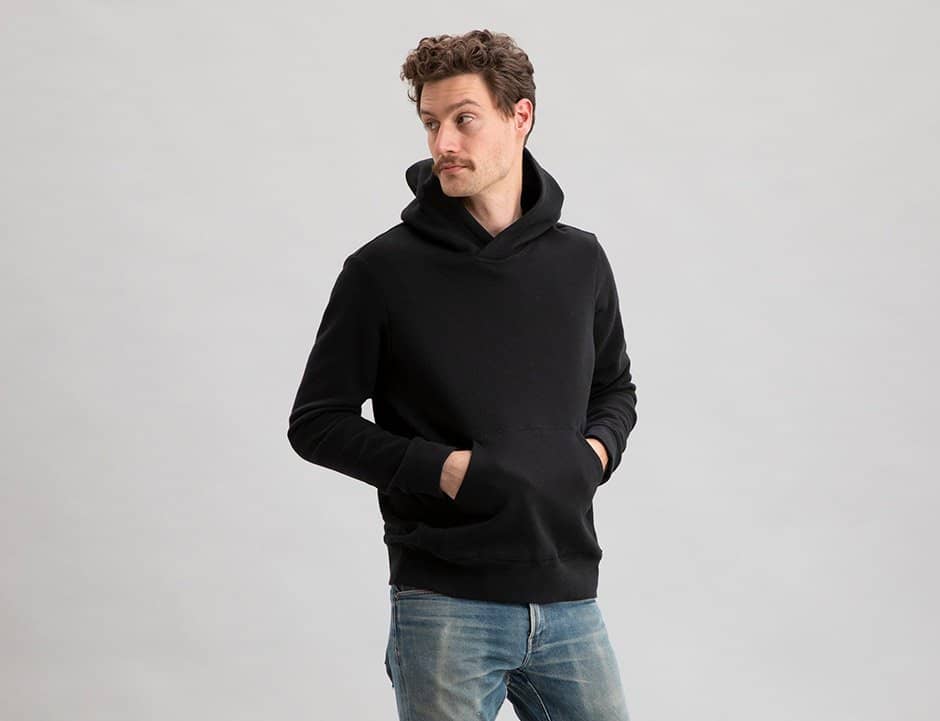 A fabric challenge is when we test a new fabric against an existing fabric in the collection to determine which is best. Some fabric challenges happen when we accidentally discover a new fabric and wonder, "could this be better than what we're using?" And some fabric challenges are scheduled to keep our products sharp and confirm we're offering the best.
2018 and 2019 saw fabric challenges within a few categories. Some of the fabric challenges were easy, with internal factory testing finding a clear winner. Other challenges were tricky, with equally good fabrics, both with positive attributes.
In the trickier challenges, we asked customers to help pick the winner. People wear and wash garments differently, so having customers wear-test for several months provides good feedback that we can't replicate internally – and many times customers provide the clarity needed to make the best decision.
Testing Our Sweatshirt Fabric
Before deciding on our current sweatshirt fabric, we held a fabric challenge. We tested two fabrics developed by different Portuguese knitting mills. Fabric A was all-cotton, it had a luxury look and feel. Fabric B was 96% cotton and 4% poly, it had a hyper-clean surface and was knitted tightly for a stable structure.
The winning and new Todd Shelton sweatshirt fabric
About 30 customers participated in the challenge. Test Fabric B received 55% of the vote, Test Fabric A received 45%. With such a small sample, the results were more mixed than we had hoped. But the results reinforced the reason we asked customers to weigh-in – both fabrics were nice, and for good reasons.
Brand founder Todd, wear-tested Test Fabric A and B during the same months. With daily wear, Test Fabric A showed signs of breakdown in the forearm where the fabric touched the desk when using a computer mouse. Test Fabric B looked new, no signs of breakdown in the same area. This was enough for us to choose Test Fabric B.
Only a few challenge participants who voted for A had negative things to say about B. This made us confident and excited about Test Fabric B. It even received its own name: Track & Field. We think you're going to love it…for years.
Here are examples of feedback we received:
"After wearing them both several times, fabric B felt slightly softer and held its shape and color a little better than A. Still, even after multiple washes and wearings, both fabrics held up well and neither was disappointing."
"Honestly both fabrics were great. I felt fabric A was slightly more stretchy and fabric B stayed consistent in size after multiple wears in between washes."
"A is better for layering. B was better as a single layer. Durability (abrasion resistance) seems much improved over other TS sweatshirts I have. Fabric feel was slightly better on A, but really hard to judge a difference."
"This was a tough call because in my mind these fabrics are in different categories. Fabric A had a softer, more luxurious look and feel. I could wear this fabric in a business casual setting (crew neck, of course). Fabric B has a smoother, more "sporty" feel to it. Because of the tighter weave, this sweatshirt did a surprisingly good job keep out wind/cold air while still being breathable enough to prevent overheating. I found myself wearing this sweatshirt numerous times when going for 2-3 mile outdoor runs. I ultimately chose this fabric because it offered more functional value as a sweatshirt while still looking good."
"Fabric B is my pick for a structured sweatshirt that I can easily wear on Fridays to work. It's clean and sharp. Fabric A is my winner for weekends: soft fabric, soft curves, just comfy."
"Fabric A got much softer after washes (which is why I chose it), fabric B kept its appearance and softness much better. Too close to call for me – loved both – especially the hoodie."
If you have thoughts about this article, we'd love to hear from you. Please reach out to us at support@toddshelton.com.