V-neck T-shirts: Evaluating Fit
Some guys feel that a V-neck T-shirt can expose too much of their chest.  Some guys only see V-necks as undershirts.
Let's look at how we designed our V-neck T-shirt, we took into consideration the above concerns and created a V-neck that looks great on most any guy. Even guys who are V-neck cautious will approve.
Notice how we designed the Todd Shelton V-neck T-shirt (above). It wraps around the neck as would a crewneck, only dropping slightly in the front. Because this V-neck keeps a fitted shape, it does three things: 1) allows the T-shirt to be worn casually (not as an undershirt), 2) it doesn't droop, exposing the chest, and 3) it adds visual structure to the face and shoulders. Compare to the V-neck T-shirt below.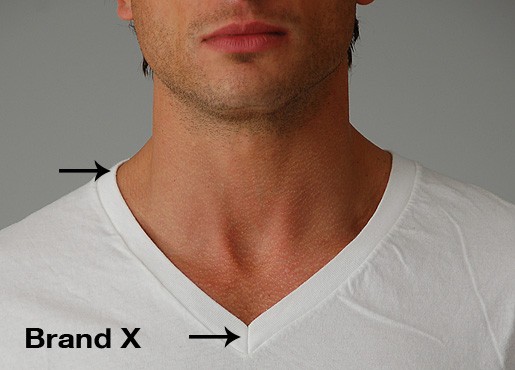 The above image is an ordinary V-neck undershirt. This white V-neck has a deep drop in the front, which is necessary so that the undershirt does not show when wearing a button-up shirt, but it does not allow for casual wear. Compare to Todd Shelton V-neck T-shirt above.
Do you like the idea of V-neck, but are still apprehensive about how it will actually look on you? Consider this: look at the Blue V-neck T-shirt above, it fits just like a Crewneck – you're just getting a less conservative shape with the V. This small change in shape really does affect the attitude of your look.