Todd Shelton Customer Stories
Guys, let's get to know each other. Let's celebrate the community we've all helped build over the past decade. We asked you guys to introduce yourselves, and you did. You're in all 50 states, all ages, all professions. The common thread…you're helpful, you work hard, you're sincere, and you care (the type of guys we want to be around).
---
Name: David C.
Customer since: 2016
Hometown: Ridgewood, NJ
Profession: Entrepreneur
Children: 3 kids
Pet: Rexi (Labradoodle)
Favorite food: I love all food
Last best vacation: Palm Springs, CA
Favorite TS product: Pro Dark Jeans (wear 5 days a week)
Todd's notes on David: I've never met someone living daily life more fully than David (just look at how he does meals at home). From the beginning, David has come to the factory to place his orders and pick up his orders, so we get to hear what he's up to regularly. How he approaches meals, friends, entertaining, travel – is an inspiration – and he does all that on top of owning a company with a massive number of employees. A cute story about David…I tried on a few occasions to get him to try our Hoodie. He always said, "I'm not a hoodie guy." After a few times, I said, "we'll make a hoodie for you, on the house". We gave it to him, but he said he first needed to ask his wife and kids their thoughts. Below is the text I got from him a few days later. Obviously, a good family man.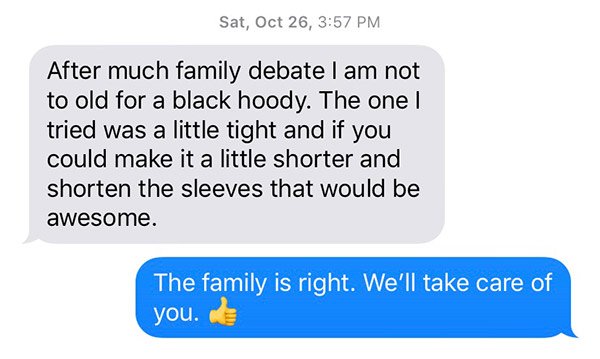 ---
Name: Kevin K.
Customer since: 2017
Hometown: Montclair, NJ
Profession: Real Estate Brokerage
Children: Boy 13, Girl 9
Pet: Zoey (Dog), Mr T (Tortoise)
Favorite food: Chicken Parm
Last best vacation: Venice Beach, CA
Wearing in photo: Buffalo Plaid Chambray, Pro Soft Darks
Favorite TS product: Western Blue Chambray
Todd's notes on Kevin: Kevin is married to customer service superstar Jessica K. Kevin is a true entrepreneur, he built a real estate company in NYC throughout his 30s and sold it in his early 40s. He's an optimist, up-for-anything, people-connector. If you want to have a good time out – or if you need a guy in your corner – call Kevin.
---
Name: Sameer B.
Customer since: 2015
Hometown: Needham, MA
Profession: Leveraged Finance Research Analyst
Favorite food: Home cooked Indian
Last best vacation: Maui Four Seasons
Favorite TS product: Chambray shirts (I own almost every one)
Todd's notes on Sameer: I got a call from Sameer in 2015, it was the first time we spoke. He had an upcoming trip to India and needed a sophisticated, but colorful outfit for travel and arrival. We put him in a Pro Original Darks and a Red Gingham shirt. That was the beginning. Sameer stops by the factory to say hello about once a year when he's in NYC for business – he's always quick to offer help and is sincerely interested in how we are doing. If I ever have a new chambray shirt fabric to test, I'll call Sameer – he's a chambray expert!
---
Name: Kurt B.
Customer since: 2015
Hometown: Frisco, TX
Profession: Global VP – Software Sales
Children: 16 and 14
Pet: Bella (Mini Goldendoodle)
Favorite food: Anything spicy!
Last best vacation: Snow skiing in Colorado
Favorite TS product: Pro Raw Jeans (but really all of them)
Todd's notes on Kurt: I remember the call from Kurt in 2015. He was energetic, talked fast, thought fast – knew what he wanted. Kurt was a skateboarder and still skated occasionally. But he was also a businessman who worked with guys who wore "John Varvatos polo shirts" (I've always remembered that), and he wanted something different. We first put Kurt in Pro Original Darks. Kurt breaks in a jean beautifully (see his photo), eventually breaking it down and moving on to another pair. Kurt's visited the factory on business trips to New York – always comes with good energy.
---
Name: Heath W.
Customer since: 2002
Hometown: Atlanta, GA
Profession: Entrepreneur
Children: 4 kids, 9 to 13
Pet: Diesel (Boston Terrier)
Favorite food: Beyond Meat burgers
Last best vacation: Jackson Hole, WY
Wearing in photo: Electric Company Black, Pro Original Darks
Favorite TS product: Pro Original Darks
Todd's notes on Heath: Todd Shelton is like any DTC brand, it needs someone to believe in it. Heath is that someone for us. Heath has been Todd Shelton's greatest supporter from the beginning. If there's one thing I admire most about Heath, he's always improving and challenging himself in a way that's inspiring to those around him. A tremendous family man, the type of friend that keeps groups of friends together, humble enough to seek out guidance (mentorship) from others. A story that exemplifies how he approaches life…when he competed in his first Ironman, he finished in the top 10%.
---
Name: Brian H.
Customer since: 2018
Hometown: Berkeley Heights, NJ
Profession: Property and Casualty Insurance
Pet: Sassy (Black Lab)
Favorite food: Oysters
Last best vacation: Turks & Caicos
Wearing in photo: Blue Stripe Seersucker, Olive Canvas Shorts
Favorite TS product: Pro Original Darks
Todd's notes on Brian: Brian came to the factory with his fiancé in 2018. He wanted a nice jean for his wedding. Yes, his wedding, and his fiancé was on-board! His fiancé told me the plans for the wedding and, in my opinion, it's the greatest, most thoughtful, wedding planning ever. The couple decided they didn't want to inconvenience anyone with their wedding, but they also wanted their family involved (but if the family knew, there would be gifts and more planning, etc). So on Christmas Eve, when the family was gathered, a friend showed up to the house (who was ordained, and the only one in on the plan) and married them in a sweet ceremony in front of their families. Here's a photo:
---
Name: Rob M.
Customer since: 2016
Hometown: South Amboy, NJ
Profession: VP Sales
Pet: Luke (Black Lab)
Favorite food: Broiled Scallops
Last best vacation: Acadia National Park
Wearing in photo: Jim Dandy Grey, Angry Denim Darks
Favorite TS product: Angry Denim (re-releasing Feb 2020)
Todd's notes on Rob: Rob came to us frustrated with his options at big and tall shops. The first product we put him in was Pro Original Darks. Two weeks later he returned for another jean and a shirt. That was the start, he now has 42 items. He credits Todd Shelton with changing his confidence in the workplace and putting his career on a new trajectory. Working with Rob has been one of our most rewarding clothing success stories.
---
Name: Patrick R.
Customer since: 2018
Hometown: Chicago, IL
Profession: Patent Attorney
Children: Boys, 7 and 15
Favorite food: Apple pie
Last best vacation: Maui
Wearing in photo: Electric Company Black Crewneck, Pro Original Darks
Favorite TS product: Pro Original Darks
Todd's notes on Patrick: In 2018, I signed up Todd Shelton as a sponsor on a menswear forum called Styleforum. The Styleforum community was already established and had cliques – not unlike a High School (not necessarily a welcoming environment). I felt like the new kid coming into a new High School. Patrick was the guy, like you see in movies, who recognizes the dynamics and befriends the new kid. First, Patrick started off as a customer and over the course of a year, became a good friend. Patrick and I talk via text or voice regularly, generally about our businesses. And btw, he has great style.
---
Name: Drew M.
Customer since: 2016
Hometown: New York, NY
Profession: Advertising
Pet: Lola (pictured)
Favorite food: John's Pizza (Bleeker St)
Last best vacation: Palawan Islands, Philippines
Wearing in photo: Aussie Dusters Safari, Portland Flannel
Favorite TS product: Angry Denim Darks (re-releasing 02/20)
Todd's notes on Drew: "I love the M******* brothers." That's what I hear from Erica and Jessica every time the brothers place an order. Drew's brother was actually our first M*******, and Drew ordered two weeks later. Over the years, Drew has always been consistent, respectful, and easy to work with – for Erica and Jessica, that's a stellar relationship.
---
Name: Jason D.
Customer since: 2010
Hometown: Tepetlaoxtoc, Mexico (originally from Columbus, GA)
Profession: Economist (International Agricultural Research)
Children: 8 and 15
Pet: 4 peacocks (one in photo), 2 dogs, 3 parrots, and a few chickens
Favorite food: Mole poblano (from Puebla, MX)
Last best vacation: Backpacking in Colorado
Wearing in photo: Heather Grey Sweatshirt, Pro Original Tonal, Italian Blue Dot Shirt
Favorite TS product: Japanese Herringbone Shirts
Todd's notes on Jason: No customer has been more loyal or more consistent than Jason. I just looked at his order history and it's legendary. And even though I heard Jason's name all the time, he was an enigma to me. It seemed he was placing orders from different locations throughout Central and South America throughout the years, I was intrigued by his life. This past year I reached out to Jason when I was making the decision to narrow our collection, I was concerned about Jason particularly because he likes variety in his style. We spoke (via email) about the new direction and he was supportive, but I still worry about how we can meet Jason's style needs (I plan to keep Jason in mind when I see new and unique fabrics).
---
Name: Joe R.
Customer since: 2019
Hometown: Bergenfield, NJ
Profession: Entrepreneur
Children: 14 month
Favorite food: Cacio e Pepe
Last best vacation: What's a vacation?
Wearing in photo: Black Crewneck, Black Selvedge Jeans
Favorite TS product: Black Selvedge Jeans
Todd's notes on Joe: I first met Joe at our denim month event in February 2019. He came with his wife and 2 month old son. Joe and I hit it off over our shared interest in minimalism. Joe came to the factory again in November and we discussed what I was trying to do with rules for clothing and how it tied into a minimalist mindset. He recommended Essentialism, a book about the "The Disciplined Pursuit of Less" I'm looking forward to more discussions with Joe about this way of life.
---
Name: Paul S.
Customer since: 2013
Hometown: Boston
Profession: VP of Operations
Children: Daughter, 31
Pet: Hannah Rose (Goldendoodle)
Favorite food: Filet Mignon (perfectly cooked)
Last best vacation: St. Maarten
Wearing in photo: Flannel-lined Pro Original, Flannel Shirt
Favorite TS product: Denim Jacket
Todd's notes on Paul: I first met Paul 7 years ago. He cared about Made in USA and he had a website called 'The Americanologist", that helped people find American-made brands – it was a labor of love. He came to the factory and interviewed me and probably to both of our surprises, became a customer that day. I'd say Paul is in the Top 10 of our most supportive customers. This past year he had about a month off from his career as a Lean Manufacturing expert. Instead of spending that month vacationing, he spent 3 weeks with us analyzing our operations and making adjustments for efficiency.
---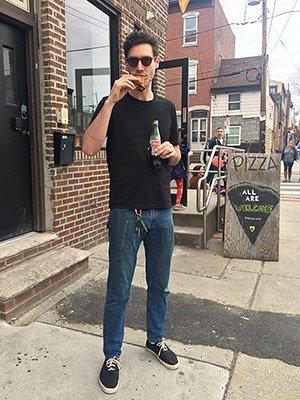 Name: Kyle S. (TS model)
Customer since: 2015
Hometown: Philadelphia, PA
Profession: Model, Cook, Musician
Pet: Raisin and Radicchio (2 cats)
Favorite food: Pizza
Last best vacation: Portland, Maine
Wearing in photo: King Indigo Darks, Black Crew T-shirt
Favorite TS product: Pro Original Raw
Todd's notes on Kyle: We all react differently to people's looks, especially online, and most of us make quick judgments on whether we relate to them or not. That's the difficult part about choosing models, "will your audience relate to them?" So I'd love to take this opportunity to tell you what I know about Kyle as a person. Always on time, always friendly, a dedicated friend, a dedicated boyfriend (to Kara), works hard, generous, and he's living life his way – I couldn't ask for more from Kyle. My favorite Kyle story…he played #1 doubles on his JV High School tennis team. The coach gave Kyle and his partner the news they were ready to move up to varsity. Kyle and his partner discussed the move privately, then informed their coach they preferred to stay #1 JV, and win more – instead of losing more on varsity. Lol.
---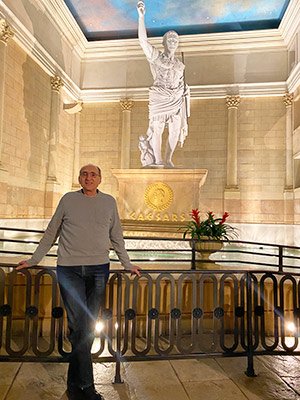 Name: Tony T. (Mentor)
Customer since: 2013
Hometown: Rutherford, NJ
Profession: Garment Manufacturer
Children: Son 31, Daughter 35
Favorite food: Pasta
Last best vacation: Caribbean Cruise
Wearing in photo:Pro Original Darks, Track & Field Sweatshirt
Favorite TS product: Pro Original Darks
Todd's notes on Tony: I met Tony, probably around 2003, when I worked for a women's clothing company. His company made garments for the company I worked for. In 2011, I was planning our first manufacturing facility (factory), and planned to relocate to Los Angeles because LA had lots of sewing infrastructure. I drove from Jersey City (my home at the time) to East Rutherford to Tony's factory, just to get general guidance on the move. Tony offered, without me asking, to start our factory in his building. Tony has become an important mentor to me, and a big supporter of our company. I see Tony every day here at the factory and we've become good friends outside of work.
---
Name: Connary F. (Todd Shelton logo and type design)
Customer since: 2017
Hometown: Heber City, UT
Profession: Typeface Designer
Children: Daughter, 5
Favorite food: Banh mi sandwiches
Last best vacation: Oregon
Wearing in photo: Pro Original Darks, Flannel Fest Shirt
Favorite TS product: Electric Company Hoodie
Todd's notes on Connary: I remember Erica coming to me and telling me we have a "cool designer" as a new customer. I took a look at Connary's website and immediately connected. It's not often I see graphic design and feel a "wow" feeling. For me, what Connary does is perfect. He's a typeface designer, meaning he designs fonts – anyone who loves to design type, sweats the smallest of details – they're disciplined – I love those types of designer brains. Connary designed the font we use on our website, it's called Articulat. Later he offered to take a shot at a logo redesign, he did, he simplified it and I love it.
---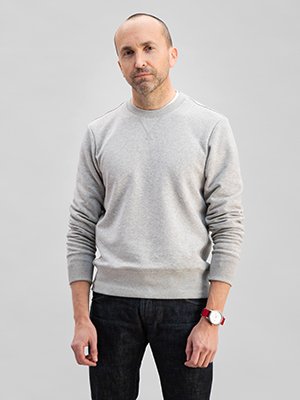 Name: Todd Shelton
Customer since: 2002
Hometown: Ridgewood, NJ
Profession: Menswear
Children: No
Pets: No
Favorite food: Burgers
Last best vacation: Florida each year with Mom and Dad
Wearing in photo: Pro Original Darks, Electric Company Crew
Favorite TS product: Pro Original Darks
---
Thanks for reading our stories. We'd love for you to become a part of our community.